My mom and dad hosted Thanksgiving this year, but the rest of my family brought the rolls, side dishes, desserts, and appetizers to share. My cousin Kyle and his wife Sarah, who are actually visiting from Uganda, Africa, brought a hot spinach and artichoke dip that was out of this world amazing. As we all huddled around the appetizer table, taking turns spooning stringy bits of the cheesy hot dip onto our pita chips, I found myself kind of wishing I could just eat the whole thing.
But that would not be socially acceptable, of course. Everyone else was enjoying it as much as me. Anyone who was in earshot was pulled over to the table.
Come over here! You've GOT to try this dip!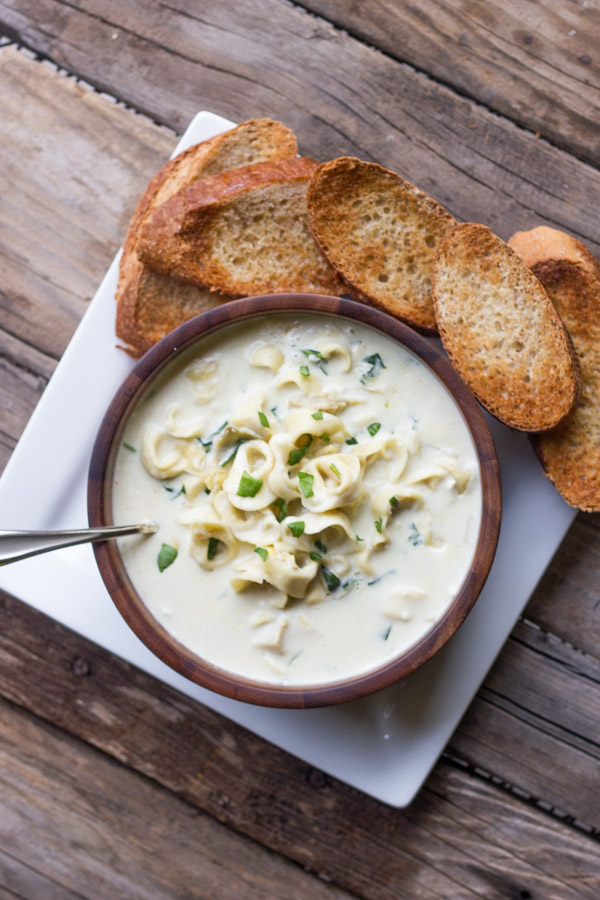 So naturally I only ate my fair share of the dip, but immediately started thinking about how I could take these flavors and turn them into something socially acceptable to eat as a whole meal. Remembering how much I loved adding cheese tortellini to this tomato basil soup, Spinach and Artichoke Soup with Cheese Tortellini totally fit the bill. Same flavors I loved in the dip, but in the form of a creamy bowl of soup!
It's flavored with garlic, artichoke hearts, parmesan cheese, cream cheese, and a little cayenne pepper for some heat. Some nice toasty slices of french bread for dipping, and you are good to go!