Living in Arizona, it's really hard not to feel a little bitter this time of year. We have a couple of months to go before it starts to feel "cold". It's somewhat depressing to see everyone else knitting, gathering round the fireplace, and jumping into piles of fallen leaves while we are still footing a huge electric bill from running the air conditioning round the clock!
But forgive my whining… it all evens out in the end.
In the meantime, I'll just pretend it feels like Fall, and join the pumpkin recipe party. These are a spin off of the ever loved Oreo truffle pop. All the goodness of your favorite pumpkin pie in one tiny white chocolate covered bite. No baking required!
One of the secrets of making these work is to freeze the pumpkin pie balls with the stick in them before dipping them. So much easier than trying to chocolate coat the ball by itself.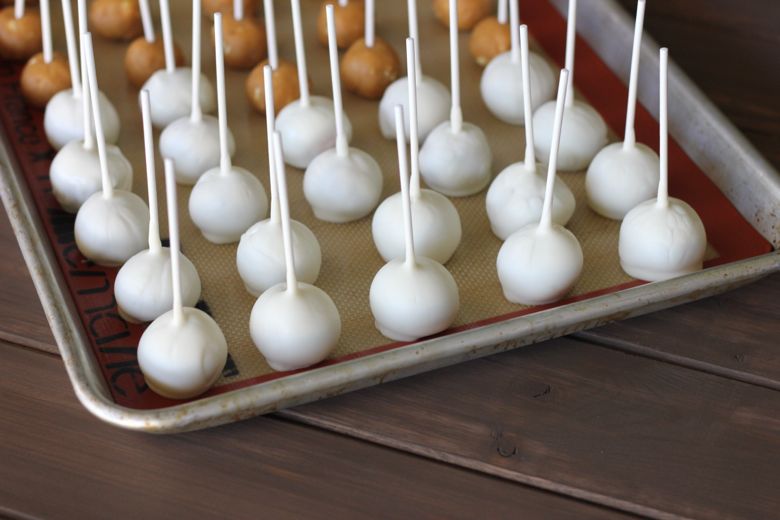 I use an extra lollipop stick to dab a bit of melted white chocolate on the front of the truffle pop to "glue" on the tiny pumpkin decoration.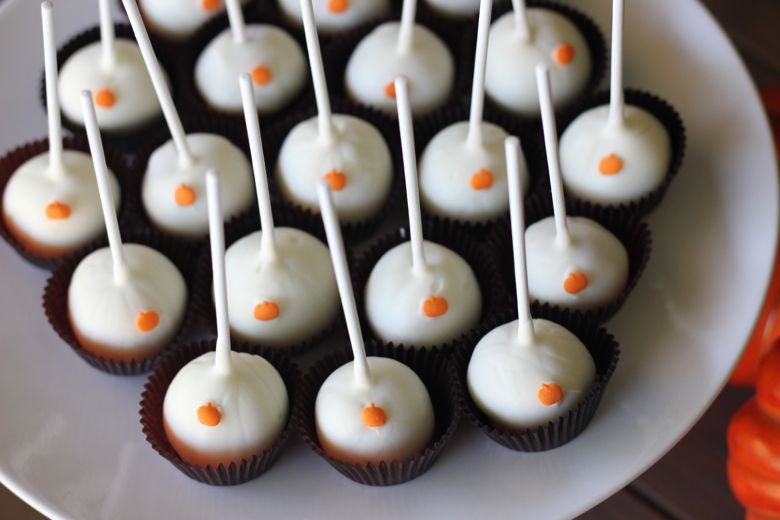 These work well for parties and get togethers because you can make them ahead of time and freeze them. They are best served cold and thaw pretty quickly.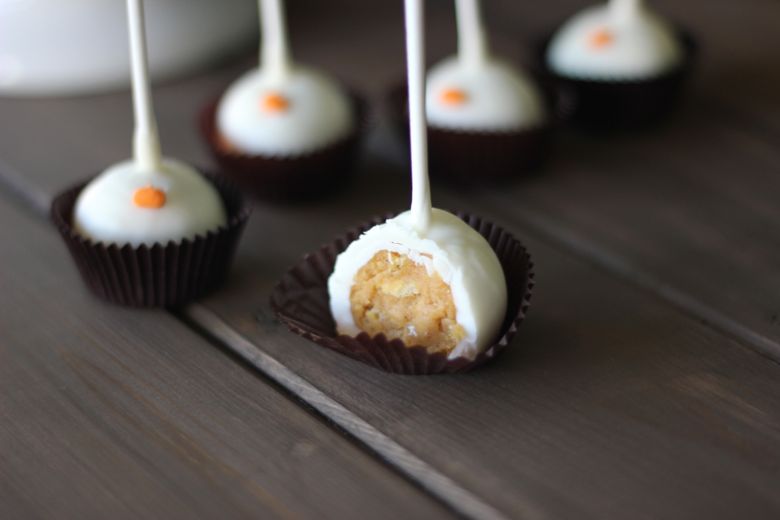 Notice how thick the white chocolate layer is in this picture? I actually prefer the chocolate coating to be thinner and I learned the trick to accomplishing this after I took this picture. Instead of melting the white chocolate candy in the microwave, I used a double boiler. This is simply a glass bowl set over a pot of simmering water on low heat. It allows the white chocolate to reach a higher temperature without burning and keeps the chocolate the same consistency the whole time you are dipping.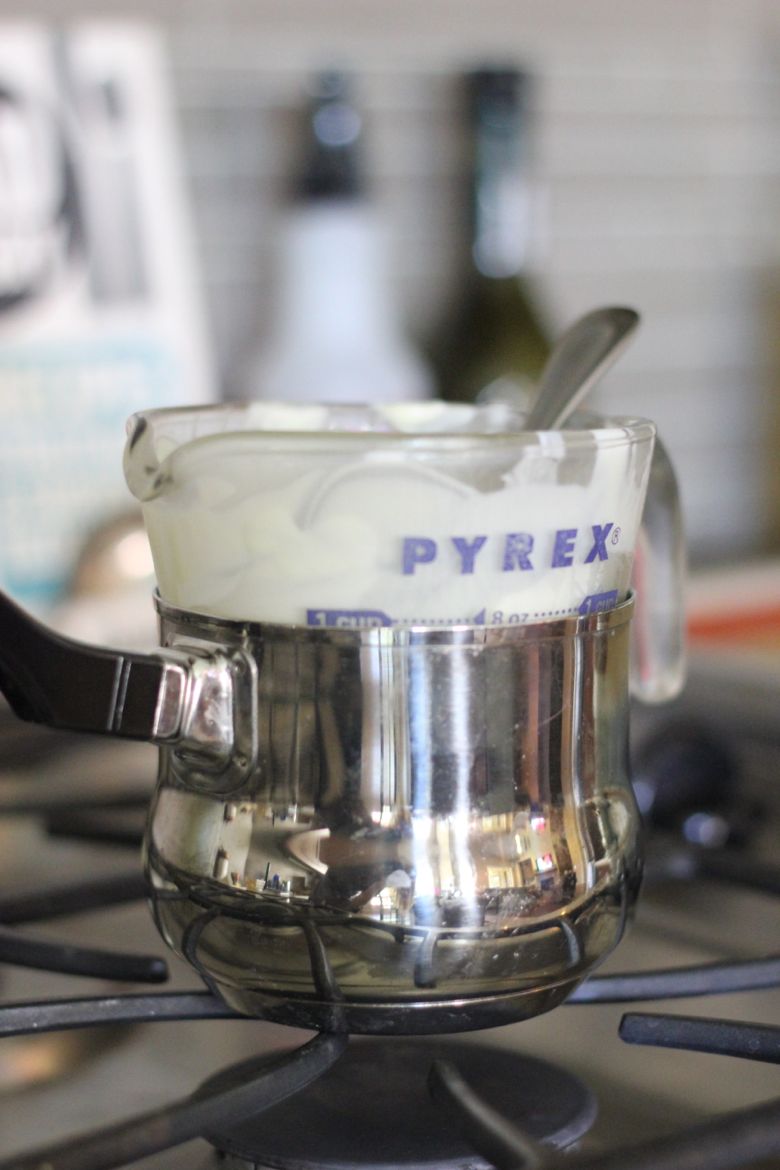 I chose to use a glass measuring cup over a small saucepan for my double boiler. I didn't want to use something very big because it would cause my white chocolate to be shallower and more difficult to dip in. I also found that I liked these melting wafers from Ghiradelli that I picked up at the grocery store recently. They melted smoothly and tasted better than other melting candy I've used in the past.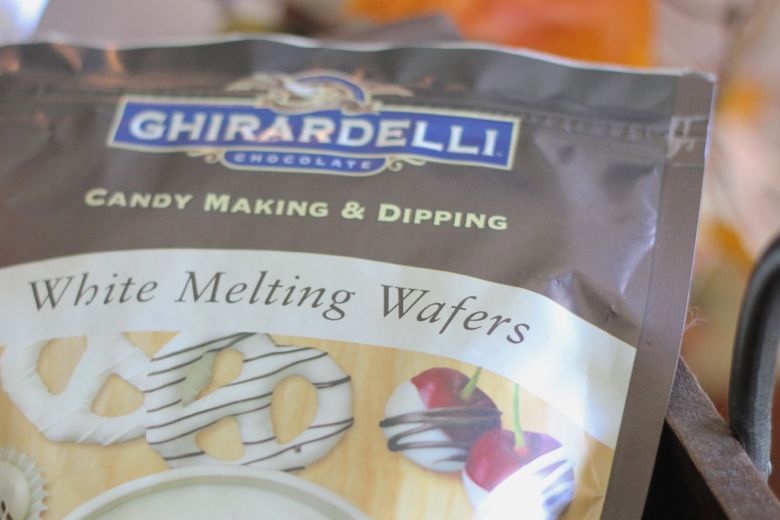 Print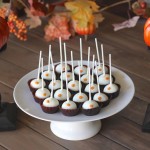 Pumpkin Pie Truffle Pops
Author:

Prep Time:

30 minutes

Total Time:

30 minutes

Category:

Dessert

Cuisine:

American
---
Description
All the goodness of your favorite pumpkin pie in one tiny white chocolate covered bite. No baking required for these pumpkin pie truffle pops.
---
11 ounce

box Nilla Wafers

1/2 cup

pure pumpkin

1/2 cup

cream cheese, softened (I used whipped)

1/2 cup

sweetened condensed milk

1/2 teaspoon

cinnamon

1/4 teaspoon

allspice

1/8 teaspoon

salt

12 ounces

white chocolate melting wafters
---
Instructions
Using a food processor or blender, pulse cookies until they are finely crushed.
In a medium bowl, mix together crushed cookies, pumpkin, cream cheese, sweetened condensed milk, spices, and salt with a hand mixer on low speed until well combined.
I used my small Pampered Chef scoop to make small balls of the pumpkin mixture and placed them on a cookie sheet, rolling them in my hands to make them smooth.
Insert a lollipop stick into the top of each pumpkin ball and freeze for 1 hour.
Melt white chocolate wafers according to directions. I found it much easier to use a double boiler.
After the coating has dried, use the end of an extra lollipop stick to dab on a tiny bit of melted chocolate to help the small pumpkin decoration stick.
---
Keywords: pumpkin pie truffle pops, pumpkin, truffle pops, fall dessert