Yesterday was one of those days. Remember Alexander and the Terrible, Horrible, No Good, Very Bad Day? My day started at 3am when Little Boy #3 woke up screaming from his bed, "I need my coffee!" Not sure what he was dreaming about prior to his outburst, but I can assure you no coffee has ever touched his lips.
Then later that morning, I had really high hopes for a scalloped potato recipe I was trying. After a good hour of prep work and another hour of baking time, I opened the oven expecting to be amazed at my beautiful potato creation only to find that the cream sauce had curdled, so what I was staring at was potatoes with curds and whey.
Yuck.
The day continued in this way…
A clogged kitchen sink.
Propane ran out while I was grilling dinner.
I cut my finger doing dishes.
My husband assured me that surely tomorrow would be better. It just had to be. I decided I would go to bed early before anything else could go wrong. Then I remembered that there was a load of laundry in the dryer waiting patiently to be folded. I opened the dryer door and noticed the inside walls of the dryer looked very colorful. Hmm… The clothes had rainbow polka dots on them. Turns out someone had a little pack of crayons in one of their pockets.
Not good my friends.
By this point, I just had to laugh. Is someone trying to tell me something? On days like these, I'm thankful that in the great scheme of things, my problems are really only inconveniences, and that I have my health, family, and the hope of a new day.
Well, unlike my scalloped potato recipe, this one is a winner. Roasted veggies and orzo pasta coated in a light lemon garlic butter sauce.
Start by chopping zucchini, red peppers, and asparagus into bite sized pieces. Toss them with olive oil, salt and pepper, and arrange them in a single layer on a baking sheet.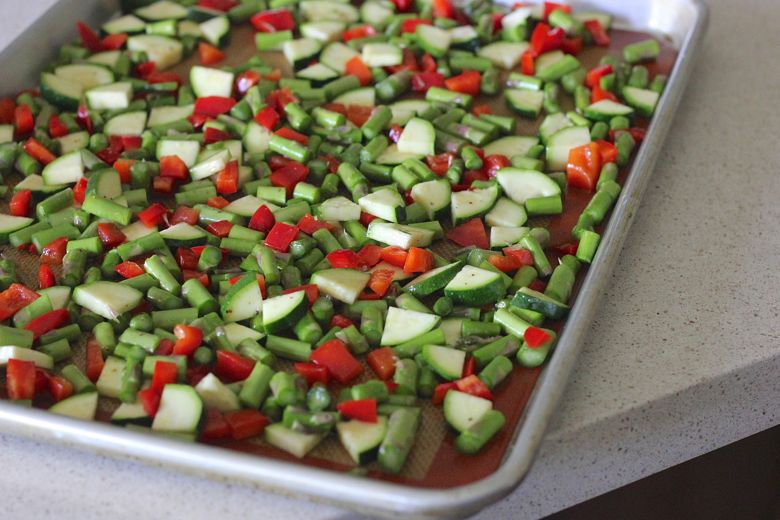 I served this pasta with some grilled chicken that I had marinated in my favorite teriyaki sauce (Island Soyaki from Trader Joes). It would also taste great with grilled chicken marinated in a little olive oil and lemon pepper.
This recipe made a lot of pasta, and I enjoyed the leftovers for lunch during the week. Orzo comes in a very tiny box, but it really expands when it cooks.