You know what amazes me? I'm amazed at the way that human beings are created with the ability to get better at things with practice. I know that's really vague, so let me try to explain what I mean. Every night before my boys go to sleep, I read them a book (or listen to them read one) and then I tuck them in tight, and pray with them. Little Boy #3 is starting to want to say his own prayer, which of course is adorable. At first he would start out strong, "Dear God, thank you for this day…" and you have to hear his little voice, just imagine every word without any "R's" or "L's". But after that he would look to me and say, "Now what do I say?" So I would prompt him by asking him what he was thankful for. I had to give him specific ideas, but then each night he began to really get the hang of it, and his little prayers flowed freely as he offered up little bits of thankfulness. "Thank you that it's almost about to be Christmastime…" "Thank you that I can play outside because it's not hot anymore…" "Thank you that Papa is still very old but not sick anymore…" I find that the same is true for me. When I intentionally practice being thankful, my awareness of God's goodness is heightened. When my awareness of God's goodness is heightened, my heart is filled with thankfulness. Lovely how that works. When the bickering boys in the backseat of the car, the sink full of dirty dishes, and the stress of upcoming holiday to do lists start to press in and my shoulders feel heavy, I can choose to wallow in my circumstances or I can be thankful. Even if we just start with "Thank you for this day", like my little one. This day. THIS DAY. It's a gift right? There will never be another one just like it, and there's no guarantee of how many more you'll get. And the more I practice shifting my focus to the things I'm thankful for, the easier it comes. Just like breathing in and out, or putting one foot in front of the other, thankfulness can became second nature. And a thankful heart is happy heart.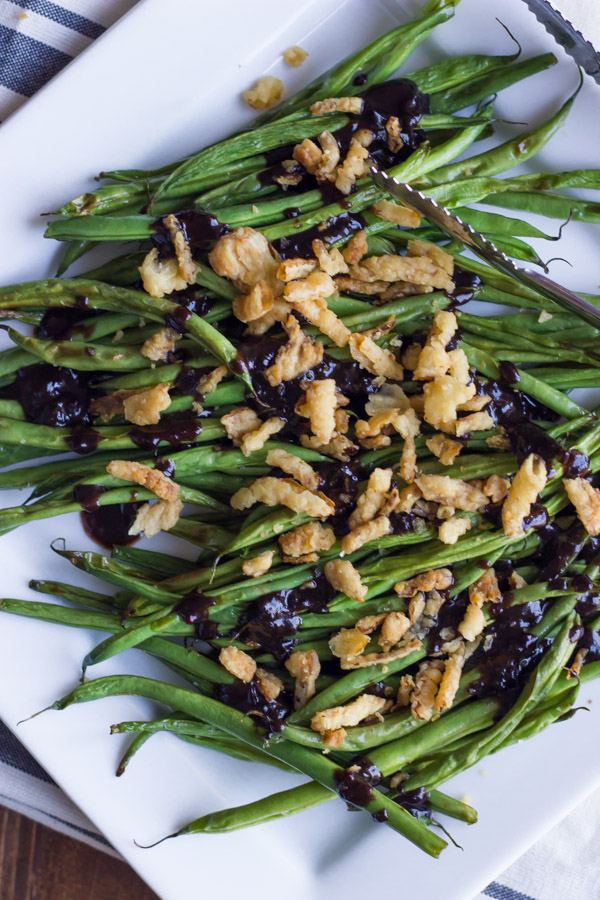 Right now I'm thankful that I'm sitting on my cozy couch wrapped up in a blanket. The cool air is coming in from the open back door, and I've just brewed a nice cup of sleepy time tea with a little honey. The boys are sound asleep and my husband is wrapping up a huge project he's been working on at the table nearby, and a football game is on. I care absolutely nothing about football, but it's soothing nonetheless. I thankful for this sweet little corner of the blogworld where I can share recipes with you. Maybe even one to grace your Thanksgiving table. If roasted green beans drizzled with a little tangy sweet cranberry balsamic topped with those little french fried onions are your thing, that is. I think I'm going to ask for a giant bag of those from Costco for Christmas and eat them all when no one is looking!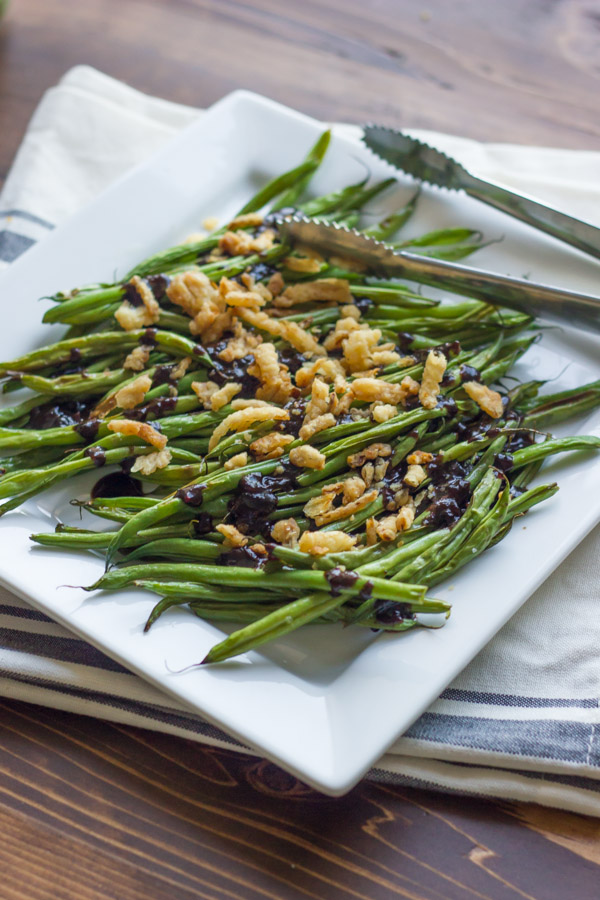 So practice probably won't make perfect when it comes to thankfulness, but I'm not really all about perfect so that's okay. And I'm not going to reserve it just for one day a year either. But it is good to set aside a time where we come together and celebrate all the blessings in this crazy world, all the things we are so very grateful for. May you have a heightened awareness of the goodness in your life this week, as you prepare for your own Thanksgiving gathering, and the in days to follow as well! Thankful for YOU my friends!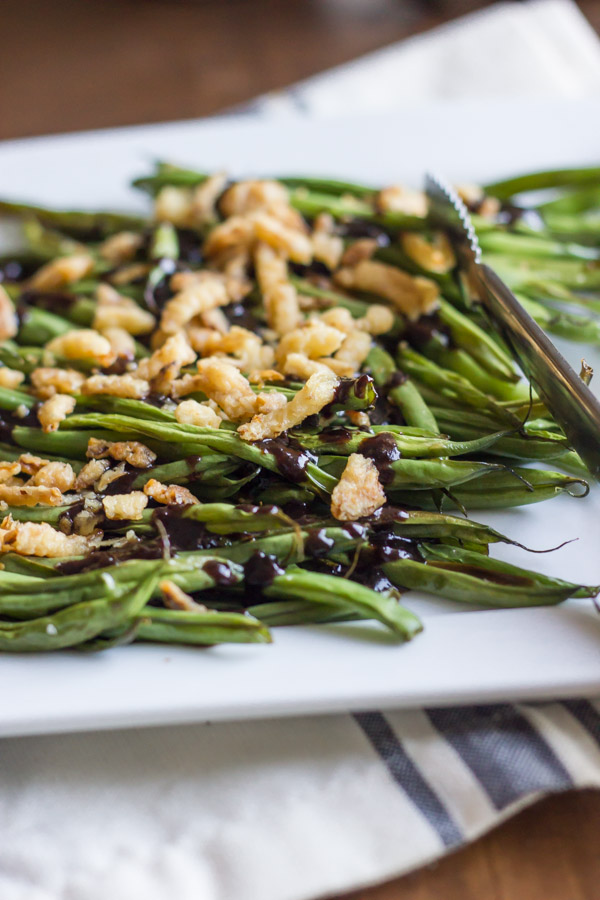 Did you make this recipe?
Please let me know how it turned out for you! Leave a comment below and share a picture on Instagram with the hashtag #lovelylittlekitchen
Can't get enough?
Subscribe and I'll send all my recipes right to your inbox!  You can also keep up to date by following me on Pinterest, Instagram,  Facebook, YouTube, and Twitter.
Print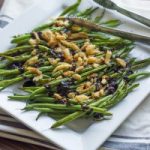 Roasted Green Beans with Creamy Cranberry Balsamic
Author:

Prep Time:

5 minutes

Cook Time:

20 minutes

Total Time:

25 minutes

Yield:

8

1

x

Category:

Sides

Method:

Roast

Cuisine:

American
---
Description
A lovely tangy and sweet fresh green bean side dish topped with french friend onions.
---
16 ounces

fresh green beans, washed and trimmed (I used haricot vert)

2 teaspoons

olive oil
salt and pepper
For the Cranberry Balsamic
1/4 cup

balsamic vinegar

2 tablespoons

whole or jellied cranberry sauce

1 teaspoon

packed brown sugar

2 tablespoons

heavy cream

1/2 cup

french fried onions
---
Instructions
Preheat oven to 425 degrees.
Place green beans on a baking sheet, and toss with olive oil to coat. Season with salt and pepper and arrange them in a single layer.
Roast for 10 minutes, or until tender.
Drizzle with cranberry balsamic and top with french fried onions. Serve immediately.
For the Cranberry Balsamic
In a small sauce pan, whisk together balsamic vinegar, cranberry sauce, and brown sugar over medium heat. Bring to a simmer gently and allow the sauce to reduce and thicken, stirring frequently for about 8-10 minutes.
Whisk in heavy cream, and drizzle over roasted green beans.
---
Notes
If you prefer not to roast the green beans, you could also steam or boil them.
---
Nutrition
Serving Size:

1 Serving

Calories:

78

Sugar:

5.3g

Sodium:

87mg

Fat:

3.8g

Saturated Fat:

1.3g

Unsaturated Fat:

2.3g

Trans Fat:

0.1g

Carbohydrates:

10g

Fiber:

1.8g

Protein:

1.5g

Cholesterol:

4.2mg
Keywords: roasted green beans, creamy cranberry balsamic, green beans, cranberry balsamic, Thanksgiving