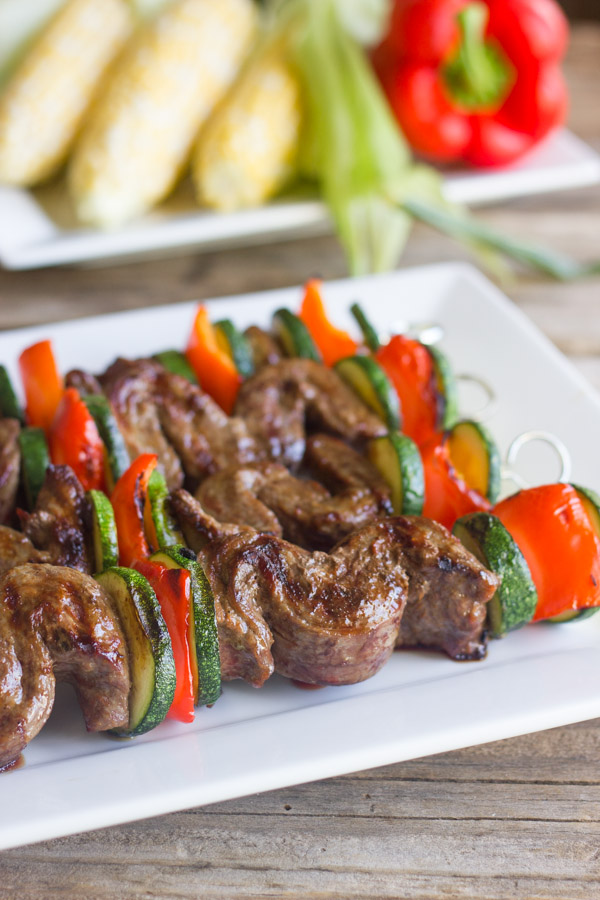 So who is the grill master at you house? Typically, this role falls to the man of the house, but at our house, it's me. When we first got married, I thought Cory would take charge of the grill, just like my dad did (and still does). But then I sent him out to the back porch with some burger patties, and he returned to me with a platter shy a few burgers. He admitted he lost a couple through the grill grates when he was trying to flip them. Hmm… Or I would go out to check on how things were going and I would see smoke coming out of the grill and Cory was nowhere to be found. Turns out he found a sprinkler that needed to be fixed and forgot all about dinner!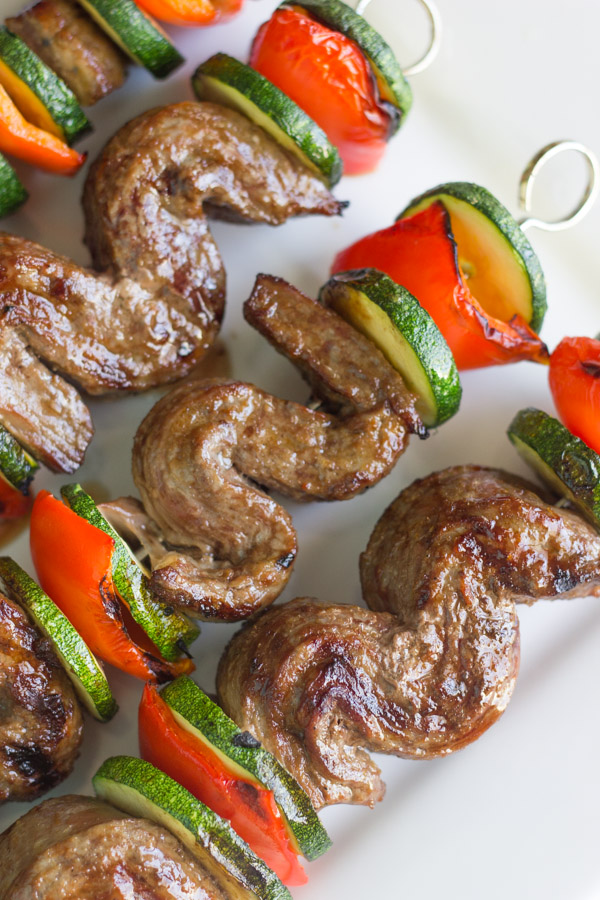 Now I hope I've made it pretty well known here that I love this man to death. I'm completely spoiled. He helps with dishes, laundry, grocery shopping, takes care of our cars, plays with the boys, and anything else I need. He has a full time job, and manages the backend of LLK. He's an amazing guy, and good looking too! But when it comes to the grill – I'll take it from here babe, thanks!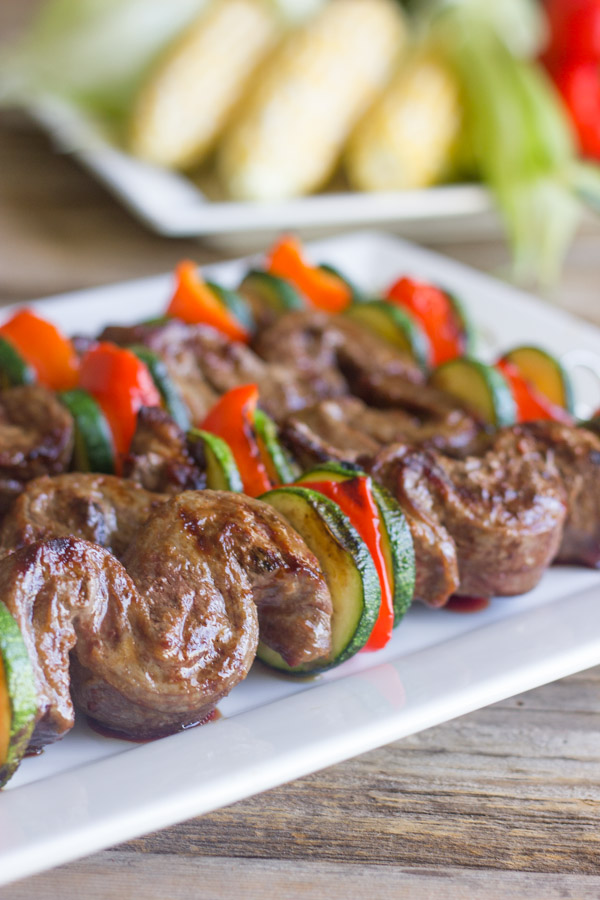 So no matter who does the grilling in your house, this recipe is a summertime must try! Flank steak is a great cut of meat because it's easy to find (I buy ours at Costco) and it's very inexpensive. If you marinate it right, and don't overcook it, you'll have tender, flavorful steak every time!
Here are a few tips for great grilling:
Use fresh (not frozen) meat whenever possible. It just tastes better!
Use metal skewers. You don't have to worry about them burning, or about getting splinters in your food. I found mine super cheap at Walmart.
Let your meat come to room temperature before putting it on the grill.
Pat excess marinade off with a paper towel before putting the meat on the grill. This prevents burning and flare ups.
Start out with a hot grill. I crank my grill up on high for a few minutes before putting the kebabs on. Once they are on, turn it down to medium heat. This gives them the chance to sear and lock in all the juices.
When you pull the meat off the grill, cover your platter with foil and let it rest for a bit. This helps keep those juices from running out all over your plate.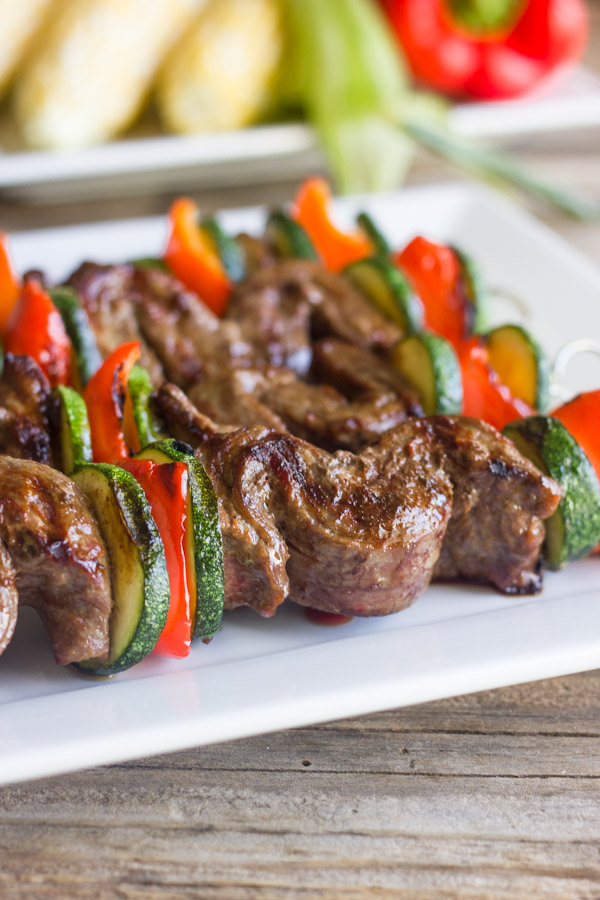 Check out my Sweet and Spicy BBQ Baked Beans too. They make the perfect side dish. Happy grilling!
Print
Grilled Flank Steak Kebabs
Author:

Prep Time:

25 minutes

Cook Time:

20 minutes

Total Time:

45 minutes

Yield:

8

1

x

Category:

Main Dish

Method:

Grill

Cuisine:

American
---
Description
These grilled flank steak kebabs are so tender and flavorful. Time to get your grill on!
---
Marinade
3/4 cups

vegetable oil

2 tablespoons

white vinegar

1 teaspoon

onion powder

2 tablespoons

honey

1 1/2 teaspoons

ground ginger

1 teaspoon

garlic powder

1/2 cup

soy sauce
Kebab
2 1/2

to

3

pounds flank steak, cut into 1/2 inch strips (with the grain)

2

zucchini squash, sliced

2

red peppers, chopped into large cubes
---
Instructions
Mix all marinade ingredients in a blender until smooth.
Use a sharp knife to slice the flank steak (cutting in the same direction of the grain) into long 1 inch thick strips.
Pour the marinade over the strips of flank steak (I use a Zip-loc) and refrigerate. Allow the flank steak to marinate for 8-24 hours.
Thread the veggies onto the skewers, and then the flank steak in an "S" type pattern. Alternate the veggies with the steak until your skewers are filled.
Preheat the grill on high heat for 5 minutes.
Then reduce heat to medium and place skewers on the grill. Cook about 10 minutes on each side.
---
Keywords: grilled flank steak kebabs, beef kebabs, flank steak, summer