I'm not really too into football. It's not that I don't like sports – I consider myself mildly athletic, and every now and then I find myself caught up in the excitement of a close game on TV. I've come to the conclusion that the reason I'm not that into football is because I can't see the players' faces very well. Or their hair. Or any distinguishing characteristics. The field is so big with so many players on it, and I just can't really tell one guy from the next.
You see, I think I've got to be able to put a face with a big guy in little pants in order for the game to be personal to me. And if something is not personal to me, I'm just not that into it. Now, if their faces were clearly visible, and they did a little background story on each guy before the game so that I could see who their wives are, how cute their kids are, and what their favorite food is, then I might care a little more about football. But they'd have to leave their helmets off so I could see who just completed the pass.
Just a suggestion.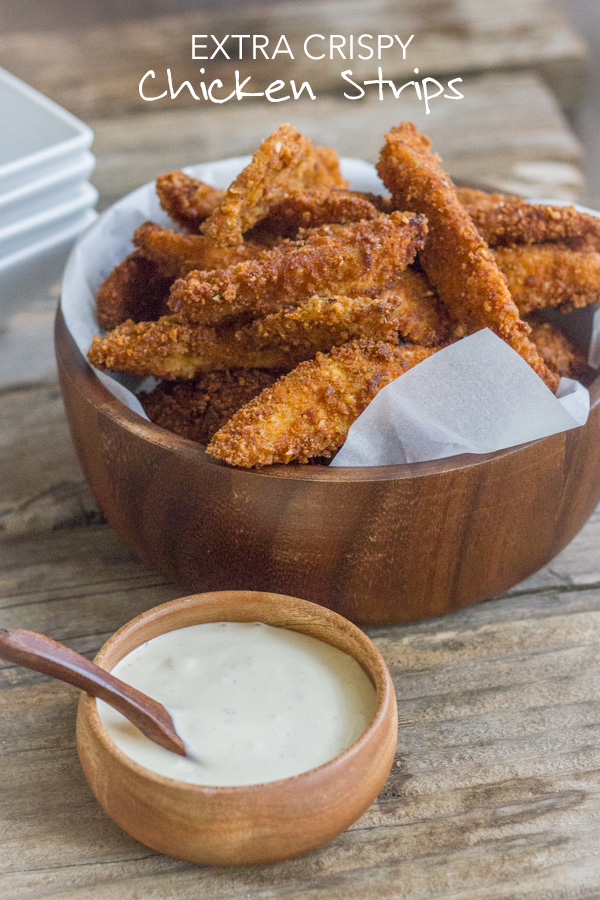 But football food is another story. It's so perfect. Snackety, snack, snack.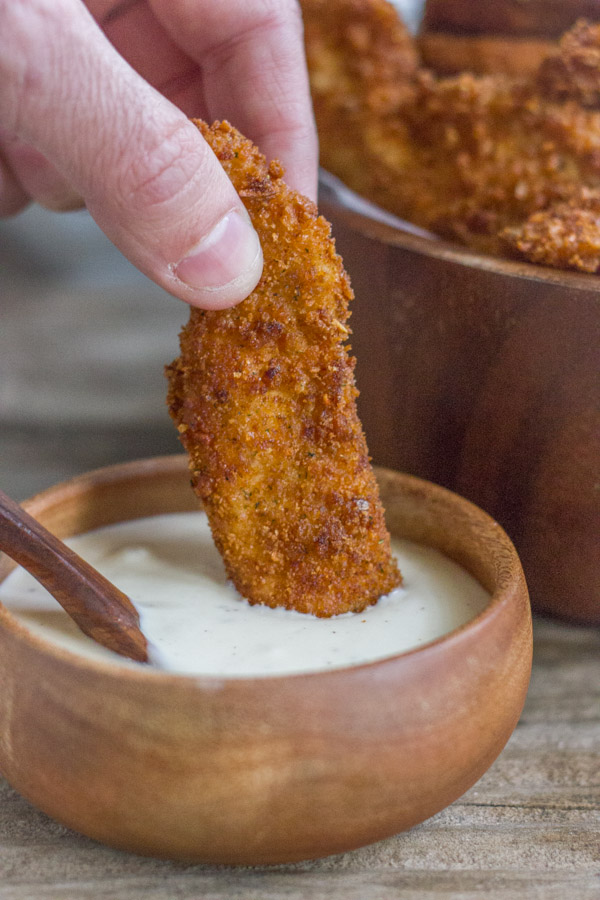 It's all the stuff I never really make but always wish I did. Chips and dip, meatballs, potato skins, mozzarella sticks, and now these extra crispy chicken strips. And you'll never guess what makes them so extra crispy and bursting with flavor!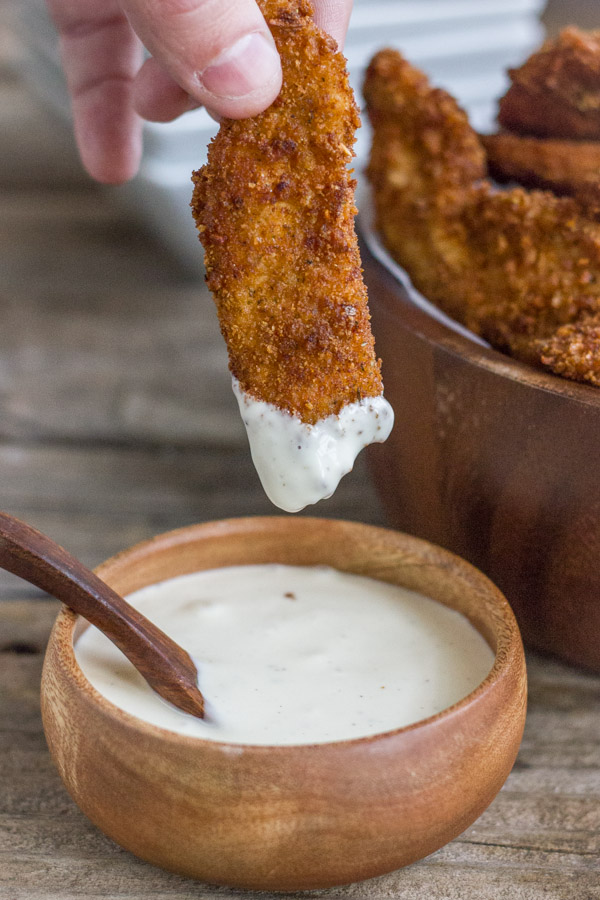 Let me tell you about my happy accident because you really need to give this a try! I was almost out of breadcrumbs when I decided to make these, so I rummaged through my pantry and found a lonely box of chicken flavored stuffing. I ran the dry stuffing through the food processor to make crumbs, and mixed it with the breadcrumbs I had. I dipped some chicken strips in a little egg, and then coated them in my stuffing/breadcrumb mixture, and gave them a quick fry. The result was crispy, crunchy, perfectly seasoned chicken strip perfection. Yum. Make these for your family and friends this weekend, and have fun if you watch the big game… or just the commercials… or even if you're just there for the food.
Print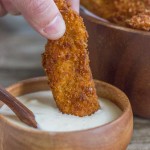 Extra Crispy Chicken Strips
Author:

Prep Time:

20 minutes

Cook Time:

5 minutes

Total Time:

25 minutes

Yield:

5

servings

1

x

Category:

Main Dish

Method:

Fry

Cuisine:

American
---
Description
Crispy, crunchy, perfectly seasoned chicken strips. Right here folks.
---
5

boneless skinless chicken breasts, cut into

three

strips each

2

eggs

2 tablespoons

milk

1/2 cup

unseasoned breadcrumbs

1 cup

dry chicken flavored stuffing

48 ounces

oil (I used canola)
---
Instructions
Pour dry stuffing into a food processor and pulse until you are have crumbs.
In a wide shallow dish, beat eggs and add milk.
In another wide shallow dish, mix breadcrumbs and stuffing crumbs.
Dip each chicken strip into the egg mixture, then press the breadcrumb mixture onto all sides of the chicken strip. Place them on a piece of parchment paper as you go.
While chicken strips are drying a bit, pour your oil into a large pot and turn heat to medium high. Watch closely.
You will know the oil is hot enough when a tiny drop of water makes it sizzle up quickly.
Using a pair of long tongs, carefully drop three chicken strips into the oil. Allow them to fry for about 1-2 minutes per side.
When they are fully cooked through the center and golden brown on the outside, remove them from the oil and drain on a paper towel.
Repeat with remaining chicken strips and serve immediately.
---
Notes
If your chicken breasts are thick, you might want to pound it flatter. This will help your chicken strips cook more quickly and evenly.
Keywords: extra crispy chicken strips, homemade chicken strips, fried chicken, chicken