Little Boy#1 and Little Boy #2 play on a soccer team, and I love watching them play. This is definitely one of those cases where the mom is trying to make up for her own childhood through her kids. I was terrible at soccer. I only played one season, and I was on a team of twelve boys and one other girl. The coach would say, "Okay Julie, you are going to be a forward. Now get out there and have some fun!"
I can still feel the uneasiness in the pit of my stomach as I looked out at that giant rectangle of grass trying to muster up some enthusiasm thinking, how in the world do the other kids know where to run to when the coach gives them a position? There are no landmarks whatsoever. Am I supposed to just pick a blade of grass and call it midfield? At least when I played softball, there were bases. Not that I ever got to play those positions. But I knew outfield meant out in that field past the bases.
So I'm secretly hoping that at least one out of my three boys will stick with soccer. But if they choose chess instead, I'll still love them to pieces.
These crockpot shredded beef sandwiches are perfect for those nights when the boys have soccer practice and there's not much time to get dinner ready and we are all super hungry. I can start the crockpot in the morning, and then when we get home from practice later that evening, I just have to shred the beef, sauté the peppers and onions and assemble the sandwiches.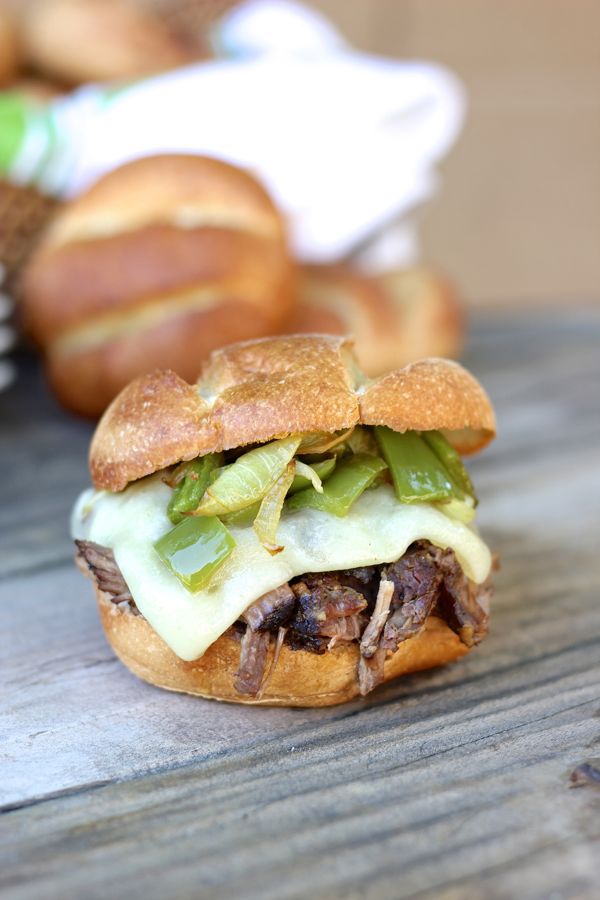 Make sure your rolls are nice and crusty so they don't get soggy when you pile on all that tender, juicy shredded beef with all the drippings. You could even save some of the drippings from the crockpot and pour it into individual bowls and eat it French Dip style.