I'm the first to admit I can be a little lazy. I'm a hard working mama most of the time, but that lazy bone that some people don't have? I think I might have a tiny one in me somewhere. Every once in a while, I'll see it surface.
Like when we are trying to get out the door to do preschool drop-offs and Little Boy #3 has the worst case of bedhead ever recorded. He's not even going to school, just going with me to drop off Little Boy #2 mind you. Why do I spend 5 minutes looking for his hat instead of just actually wetting his hair down and running the comb through it? LAZY!
Or how about when my shirt is a little wrinkly? Do I get out the iron like a normal person, or do I spray it, and then try to use my hair blow dryer to get out the wrinkles? GUILTY!
Last one… if I see a few crumbs on the floor, instead of walking to the closet, pulling out the dust buster and actually vacuuming up the crumbs, if I'm feeling really lazy, I might actually just kick them under the couch. Sheesh, I know! But see, I know it's already dirty under the couch anyway… What's a few more crumbs, right? SO LAZY!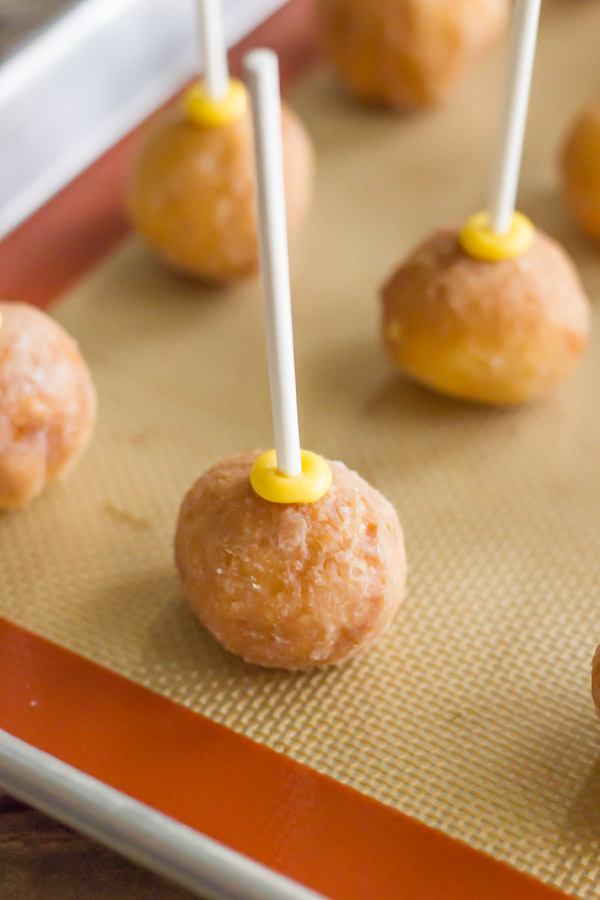 So these Easy Donut Hole Cake Pops are for all you lazy people like me out there! Hard working chefs of America, please look away.
We've got all the cuteness of a cake pop, but you don't have to bake a cake… or mix it with frosting… or scoop it into balls.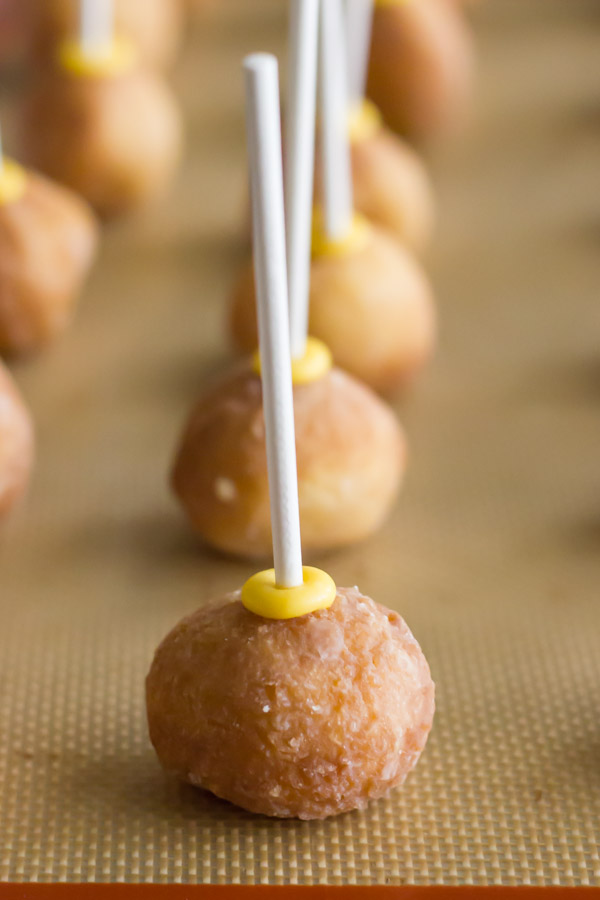 You just melt your chocolate or candy coating, dip the lollipop stick a tiny bit into the melted chocolate, and press it into the top of your cake donut hole that you bought in the bakery section of your grocery store. This will keep it from falling off the stick when you are dipping. If you donut hole is shaped a little wonky, just take a paring knife and trim off the wonky part.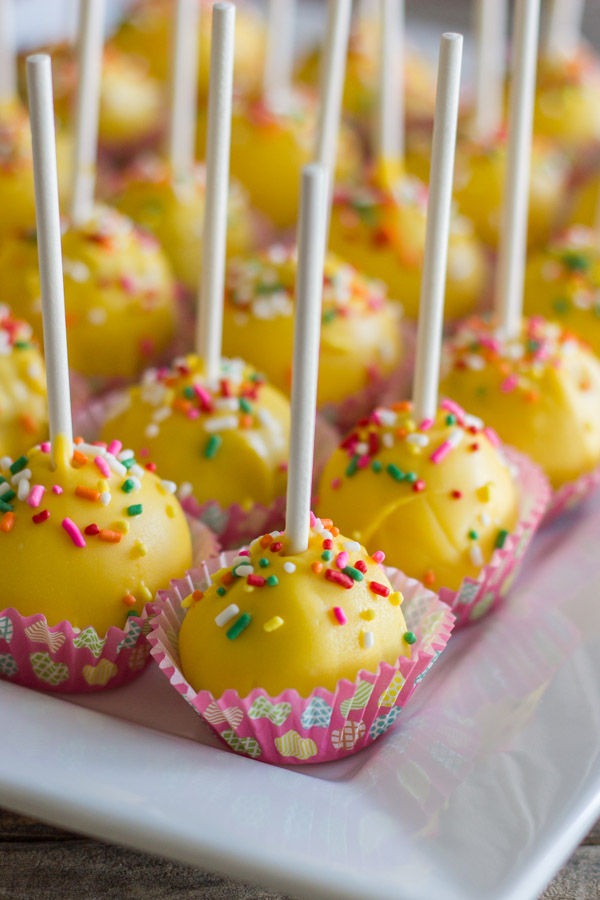 Then you let the chocolate coating harden in the fridge for about 10 minutes, and pull them out and dip the whole thing in the melted chocolate, sprinkle your sprinkles, and then put them back in the fridge to set. It took me about 25 minutes to do two dozen. I also like to let the cake pop harden with the stick pointing up. No worrying needing a special tray to hold them, and you get to add to the cuteness with patterned mini cupcake liners.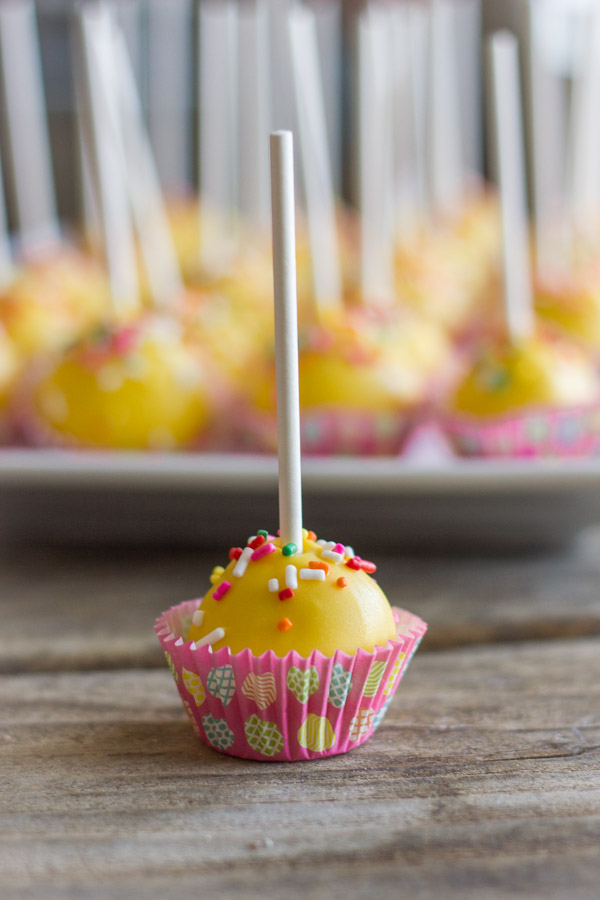 So if you need cake pops in a hurry, this is the way to go! Or maybe you know the kids at your Easter celebration aren't too into carrot cake – these are the perfect kiddo treat.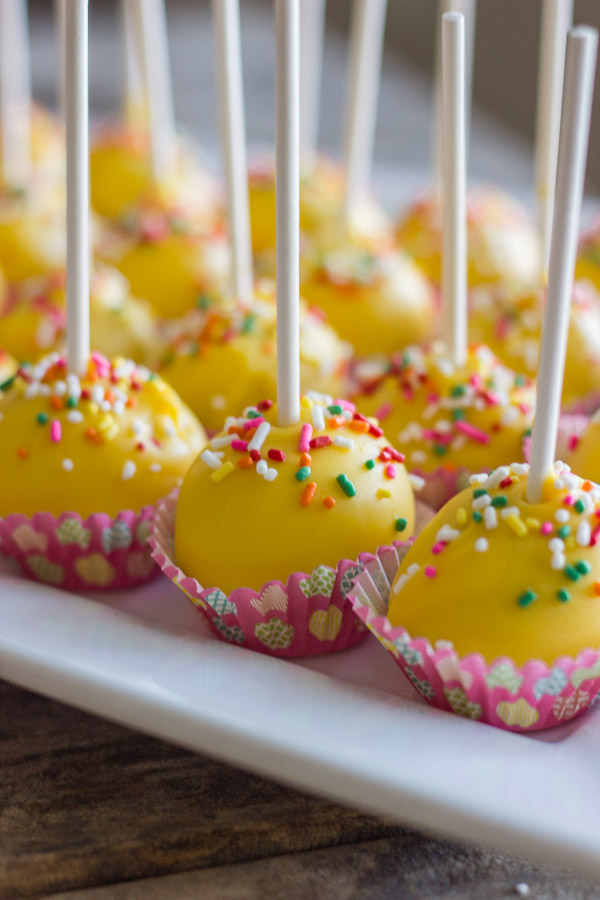 I almost didn't post this recipe, because I didn't really want to reveal my laziness to all of you… But then I thought, maybe I'm not the only one who appreciates a shortcut now and then.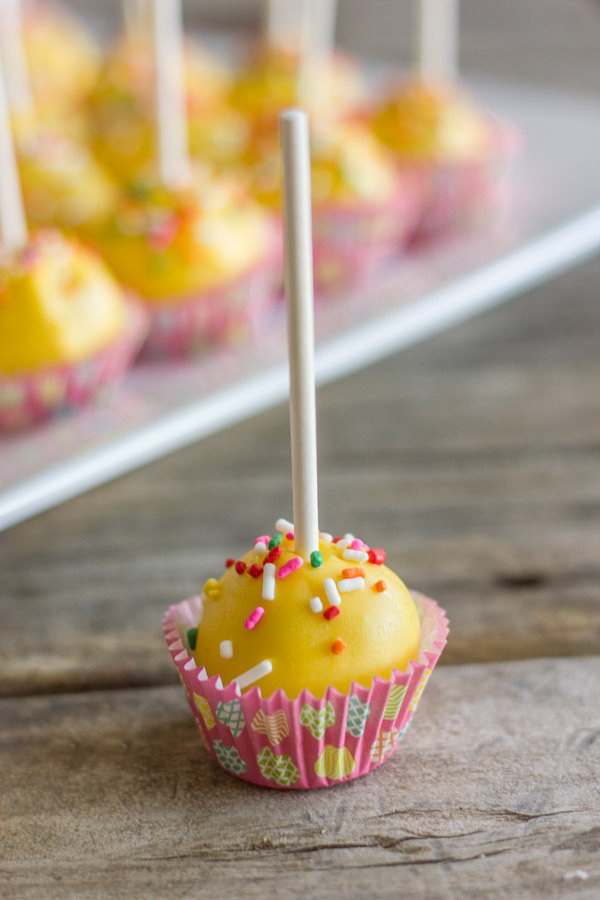 But promise me, if you ever come visit me at my house, please don't look under my couch!
Print
Easy Donut Hole Cake Pops
Author:

Prep Time:

15 minutes

Cook Time:

10 minutes

Total Time:

25 minutes

Yield:

2

4

1

x

Category:

Dessert

Cuisine:

American
---
Description
If you need to make cake pops in a hurry, this is the way to go!
---
24

cake donut holes (not yeast donut holes, just the old fashioned cake)

14 ounce

bag melting wafers

24

lollipop sticks (

4

inch)

24

mini cupcake liners
sprinkles
---
Instructions
Using a double boiler*, melt chocolate or candy wafers. Be careful to use low heat and stir occasionally so you don't burn it. Also do not let any moisture get into your melting wafers or it may seize up.
When it's completely melted, dip the tip of your lollipop stick about a half inch into the melted chocolate and press it into the top of the donut hole. Place the donut hole onto a parchment paper or Silpat lined baking sheet.
Repeat with all 24 donut holes. Place them into the refrigerator for 10 minutes or until the chocolate has hardened.
Then take them out and dip each one all the way into the melted chocolate, letting the excess drip off. I use a spoon to sort of scrap the excess of the bottom. Remember you won't see this part because it will be underneath.
While the chocolate is still wet, sprinkle your sprinkles.
Repeat with all 24 donut holes and refrigerate.
When the candy coating has hardened, you can place each one into a mini muffin liner.
---
Notes
* A double boiler is a glass bowl set over a small pot with about 1 inch of simmering water it in. You don't want the water to touch the glass bowl. ** I buy my colored melting candy wafers at Michaels or Hobby Lobby. Source: Inspired by Better Homes and Gardens
---
Nutrition
Serving Size:

1 Cake Pop

Calories:

129

Sugar:

9.4g

Sodium:

137mg

Fat:

5.4g

Saturated Fat:

1.9g

Unsaturated Fat:

3g

Trans Fat:

0.1g

Carbohydrates:

19g

Fiber:

0.8g

Protein:

1.9g

Cholesterol:

4.2mg
Keywords: easy donut hole cake pops, donut cake pops, cake pops, easy