I always find myself searching for balance this time of year. On one hand, I want to get ahead with baking and shopping and decorating and wrapping. On the other hand I just want to get cozy on the couch by the fireplace in my favorite pair of yoga pants with a cup of hot cider, and take the time to really ponder and treasure up the true meaning of Christmas. I want to slow things down and make memories for my kids by upholding family traditions, but this takes time and planning. There are so many things to add to the schedule, good things, but when I try to stuff it all in, I end up looking back on the Christmas season with relief that the rush is over, instead of cherishing the memories and feeling ready for the New Year.
There's so much to do, but I'm learning to just embrace the beautiful chaos that is CHRISTMAS!
Maybe you can relate? To help you out a bit, I've put together this little gift guide. I always love when my favorite bloggers share their favorite gift ideas, so I thought I would join in too. Here are a few ideas that would make a lovely gift this season, especially for the one you love who loves to bake (and eat, too).


My sweet husband surprised me last year with a box of Sweet Tooth Fairy's cakebites just before Christmas. I completely loved them, and ordered the Holiday Sampler box for my mom. On Christmas Day, she opened them to share and the whole family was oohing and ahhing over each little bite. Can't go wrong with these for the sweets lover on your list.

I have been baking on my Silpat mats for the last 5 years and can't imagine my kitchen without them. Nothing sticks to them, so I never have to grease my baking sheets. Everything bakes more evenly on Silpat, and you can reuse them over and over again. I also like to use them for rolling out pastry dough.

I love using these scoops to keep my baked goods a consistent size. I use them for cookies, muffins, cupcakes, tart shells, and truffle pops. With the spring release grip, they really make the scooping process go much faster.

I'm a coffee drinker by day, and a tea drinker by night. One of my favorite things to do after getting the boys to bed is snuggle up with a good book and a cozy cup of tea with honey.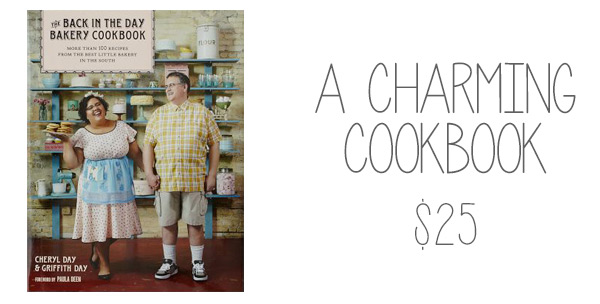 In this world where a million recipes just keep scrolling and scrolling (hello Pinterest), I have to give mention to the good old fashioned cookbook. Yes, I'm one of those people who loves the smell real books, can't stand to read on a tablet, and refuses to believe they are a dying cause. Long live real books!

I think these are the most beautiful measuring spoons I've ever laid eyes on. Yes, they are a bit of splurge, but maybe the answer for the one on your list who seems to have everything?

Did you know that putting food on a cake stand gives it instant sophistication? You could put squirt cheese on a Ritz, arrange it on a cake stand, serve it to your guests, and you are golden. Just kidding… I do not endorse squirt cheese. These enamel cake stands are so versatile and fun with the chunky scalloped edge.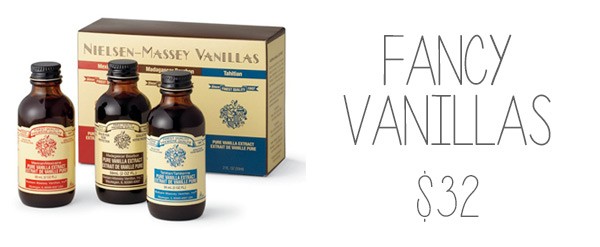 For the one on your list who likes to have options, even when it come to vanilla. Wouldn't it be fun to make the same batch of sugar cookies using three different vanillas, just to taste the difference?

So for all you bakers out there…tell me – what's on your wish list?

Disclaimer: the links in this post are Amazon affiliate links.