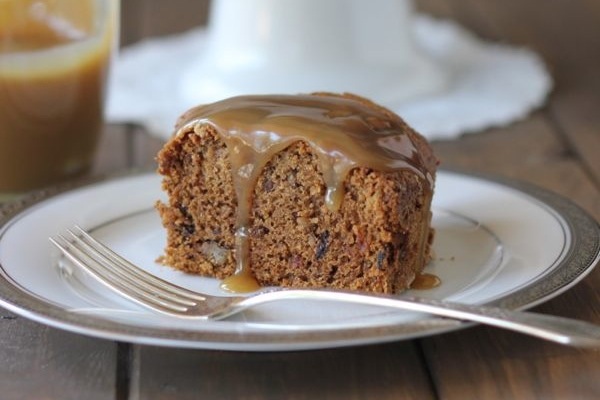 I'm blessed to have a lot of family nearby. We get together each month to celebrate birthdays, and today we celebrated my grandpa's.
He is 86 years young! He's known for his easy smile and his love of food – especially popcorn, salt water taffy and anything caramel. He always finishes eating first at our family dinners, and quickly asks, "What's for dessert?"
My mom asked him what dessert he would like for his birthday, and he asked her if someone could make him a cake that his mother used to make for him when he was younger. Knowing that I love baking, my mom delegated this job to me, and gave me the recipe from my great-grandmother.
This was my first time baking with dates. In case they are new to you also, you can find them near the dried fruit and raisins in the grocery store.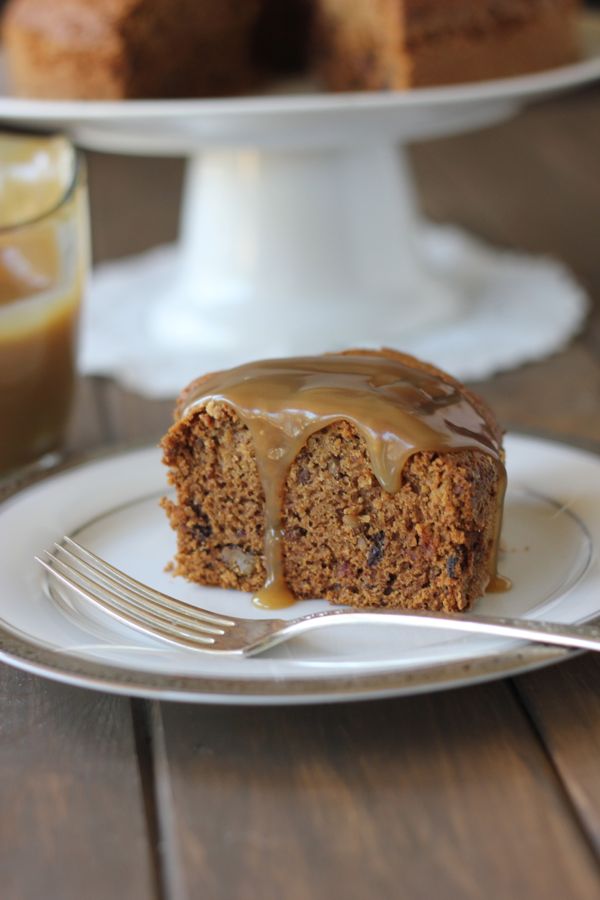 My grandpa said his mom always made a butterscotch sauce to drizzle on top of the cake. I think this helps keep the cake nice and moist.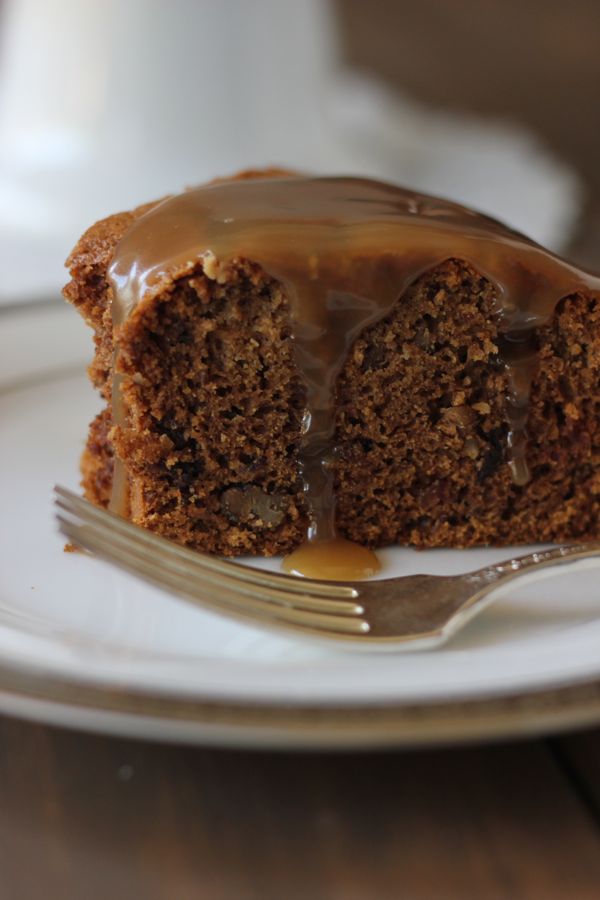 I was curious as to what the actual name of this cake was because the title on the recipe card was blank. I did some searching, and found that it is an applesauce cake and the recipe is very similar to one in "The Joy of Cooking" by Irma S. Rombauer, which was originally published in 1931. My grandpa would have been 5 years old at the time.
I love how food connects us to our past. It brings back happy memories, while making new ones too.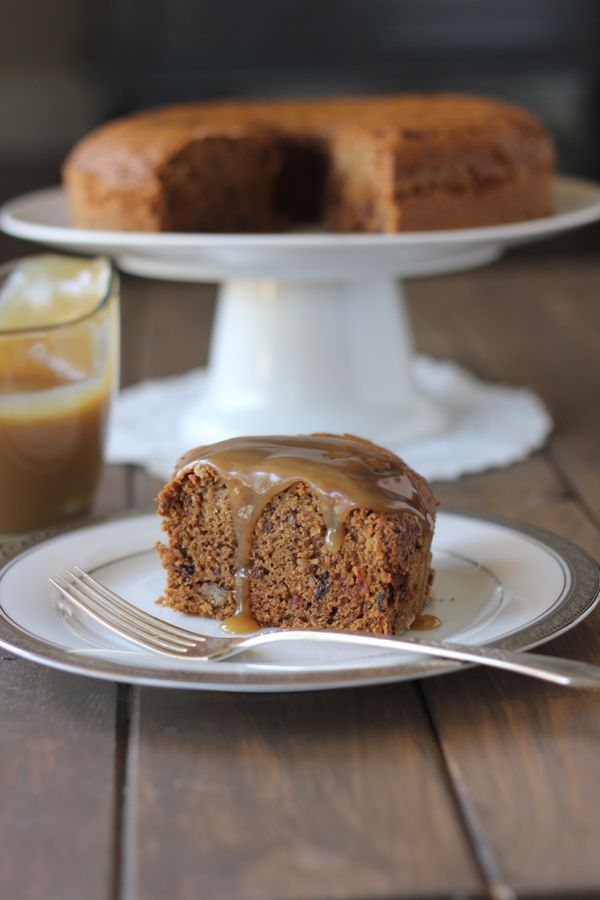 To give you a fair warning, this cake is a little "fussy". When I first saw the recipe called for cake flour and sifting the dry ingredients three times, I was a little intimidated. But it was fun to try something new and challenge myself a little, and while it was a little more time consuming, it really wasn't too much to handle for even an amateur baker such as myself.
Print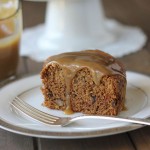 Applesauce Cake With Butterscotch Sauce
Author:

Prep Time:

30 minutes

Cook Time:

50 minutes

Total Time:

1 hour 20 minutes

Category:

Dessert

Method:

Bake

Cuisine:

American
---
Description
A vintage applesauce cake recipe with a butterscotch sauce drizzle that brings back happy memories, while making new ones too.
---
For the Cake
1 3/4 cups

cake flour

1 teaspoon

baking soda

1/4 teaspoon

salt

2 teaspoons

cinnamon

1/2 teaspoon

cloves

1/2

nutmeg

1/2 cup

butter, softened

1 cup

sugar

1

egg beaten

1

package (8 ounce) pitted chopped dates (could substitute raisins or dried currants)

1/2 cup

pecans chopped

1 cup

hot applesauce
For the Butterscotch Sauce
1/4 cup

butter

1/2 cup

packed light or dark brown sugar

1/2 cup

heavy cream

1/4 teaspoon

salt

1 1/2 teaspoons

vanilla extract
---
Instructions
For the Cake
Preheat oven to 350 degrees.
Measure out cake flour, baking soda, salt, cinnamon, cloves, and nutmeg into a large bowl and sift three times.
Cream butter with an electric mixer until fluffy.
Add sugar and cream together.
Add egg and mix.
Add pecans and dates. Mix to combine.
Alternate adding a little bit of the sifted flour and spices with a little bit of applesauce, starting and ending with the applesauce. Mix until just combined each time you add.
Pour ingredients into a buttered and floured tube cake pan.
Bake for 50-60 minutes. Mine was done right at 50 minutes when I tested it with a toothpick into the center.
Allow the pan to cool for 10-15 minutes before loosening the edges with a knife and inverting cake to a cooling rack.
Tastes best served warm with butterscotch sauce and vanilla ice cream.
For the Butterscotch
In a small saucepan, melt butter on medium heat. Add brown sugar, heavy cream and salt. Bring the sauce to a low boil and keep it boiling for 7 minutes, stirring occasionally.
Remove from heat. Add vanilla extract and stir to combine.
This sauce will thicken slightly as it cools, and will thicken significantly if refrigerated. Pours best at room temperature.
---
Keywords: applesauce cake, butterscotch sauce, cake, butterscotch, baking