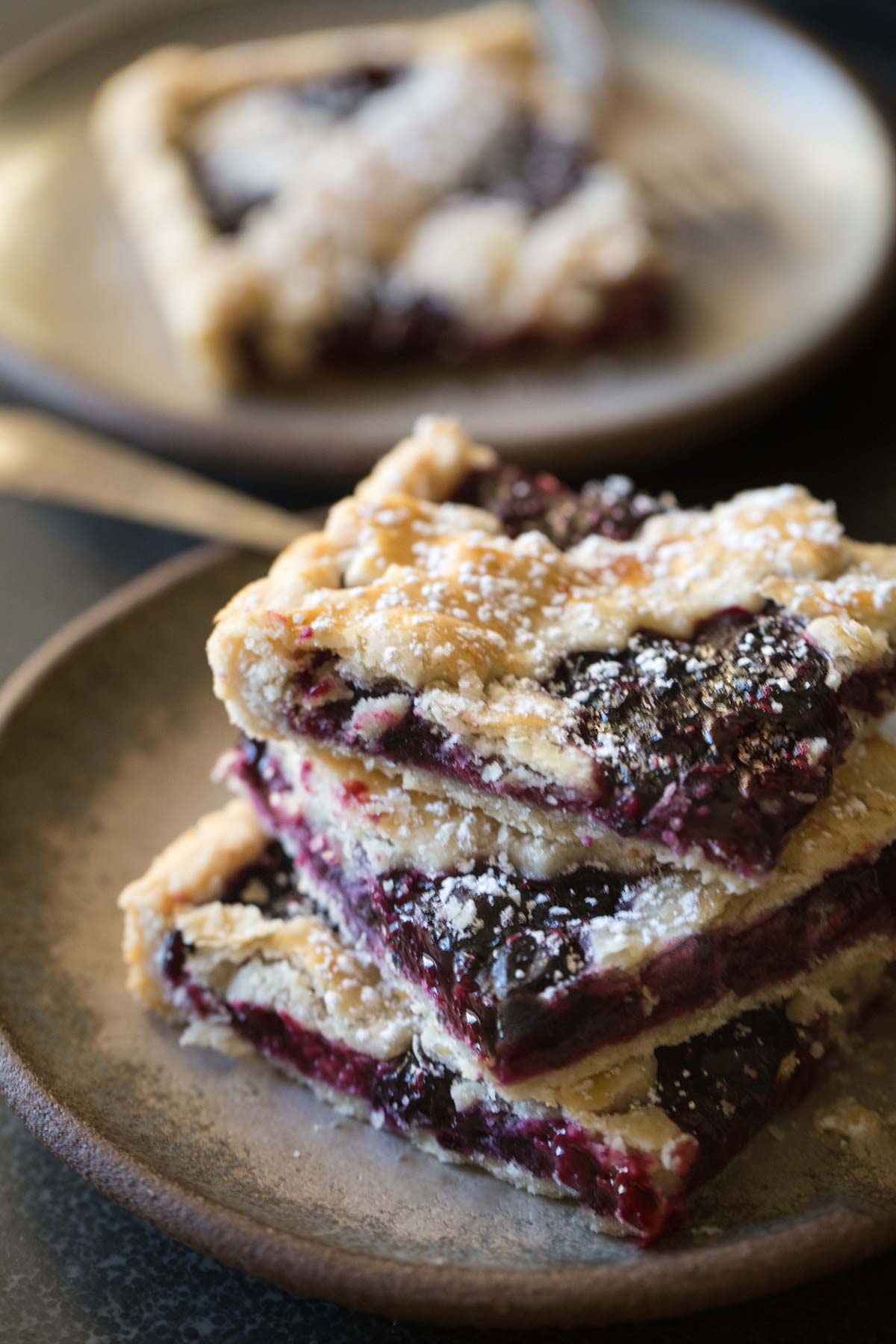 I'm pretty sure it happens to me every time September rolls around. I so look forward to a little relief from the heat. I assure myself that the temps are going to settle in under 100 any day now. I plant a fall garden. I think about soup. I order a cozy camel colored boyfriend cardigan from Old Navy, and sleek new leather loafers to go with. I don't go so far as to light a PSL scented candle, but I do heat up the kitchen making a Triple Berry Slab Pie.
Everything within me is craving fall, and every year, the weather digs in its heels and does not listen to me!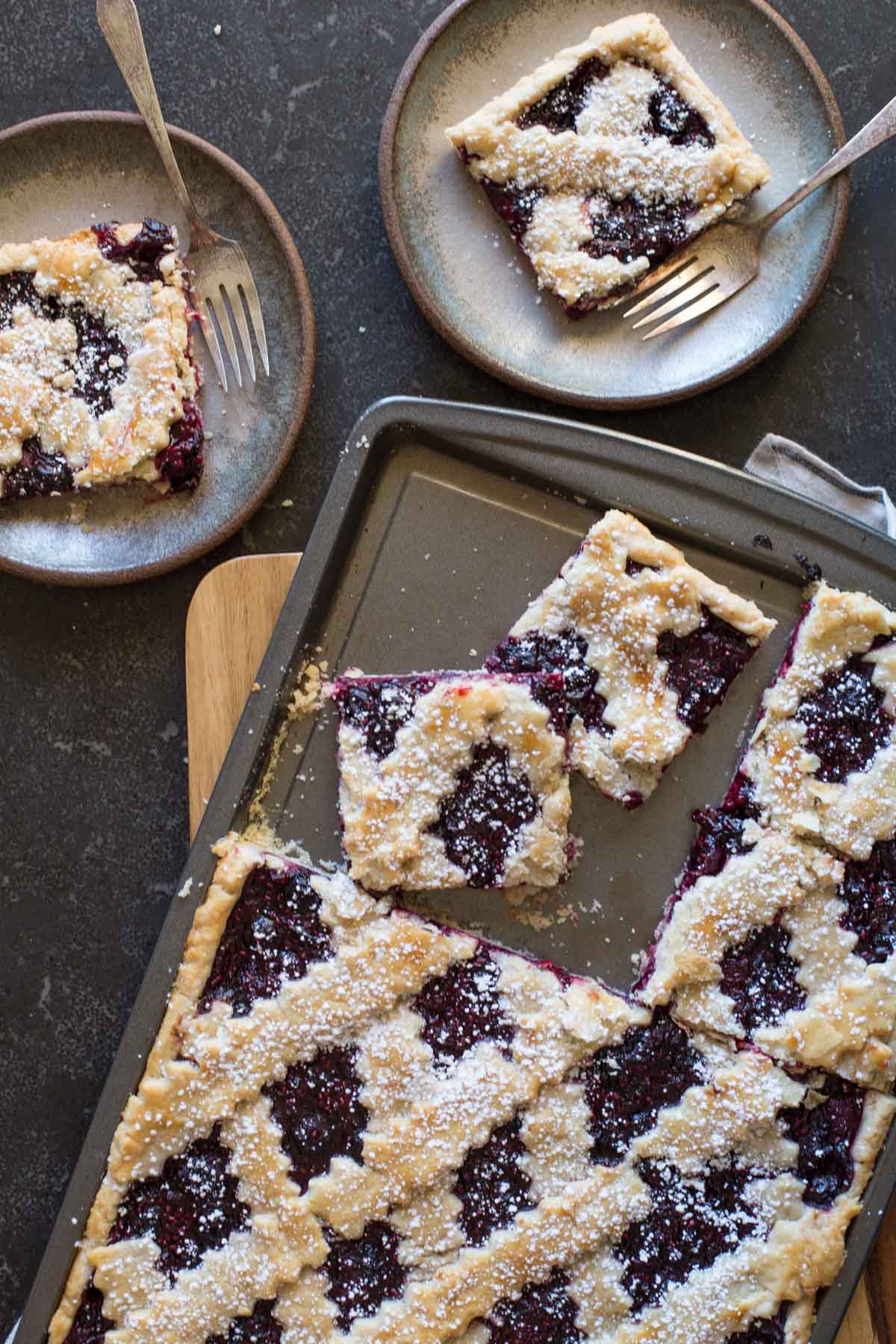 But enough complaining, at least there's PIE! I've been working on my pie making skills for years, and just when I start to feel a little bit expert about the whole thing, I'll have one that just humbles me right back down to novice. Mainly my trouble comes when I try to bake an empty shell to fill later. The darn thing just slips right down the sides. I don't need that kind of disappointment in my life.
This is why I'm thinking about switching over to team SLAB pie, and if a traditional round deep-dish pie gives you anxiety, maybe you should too.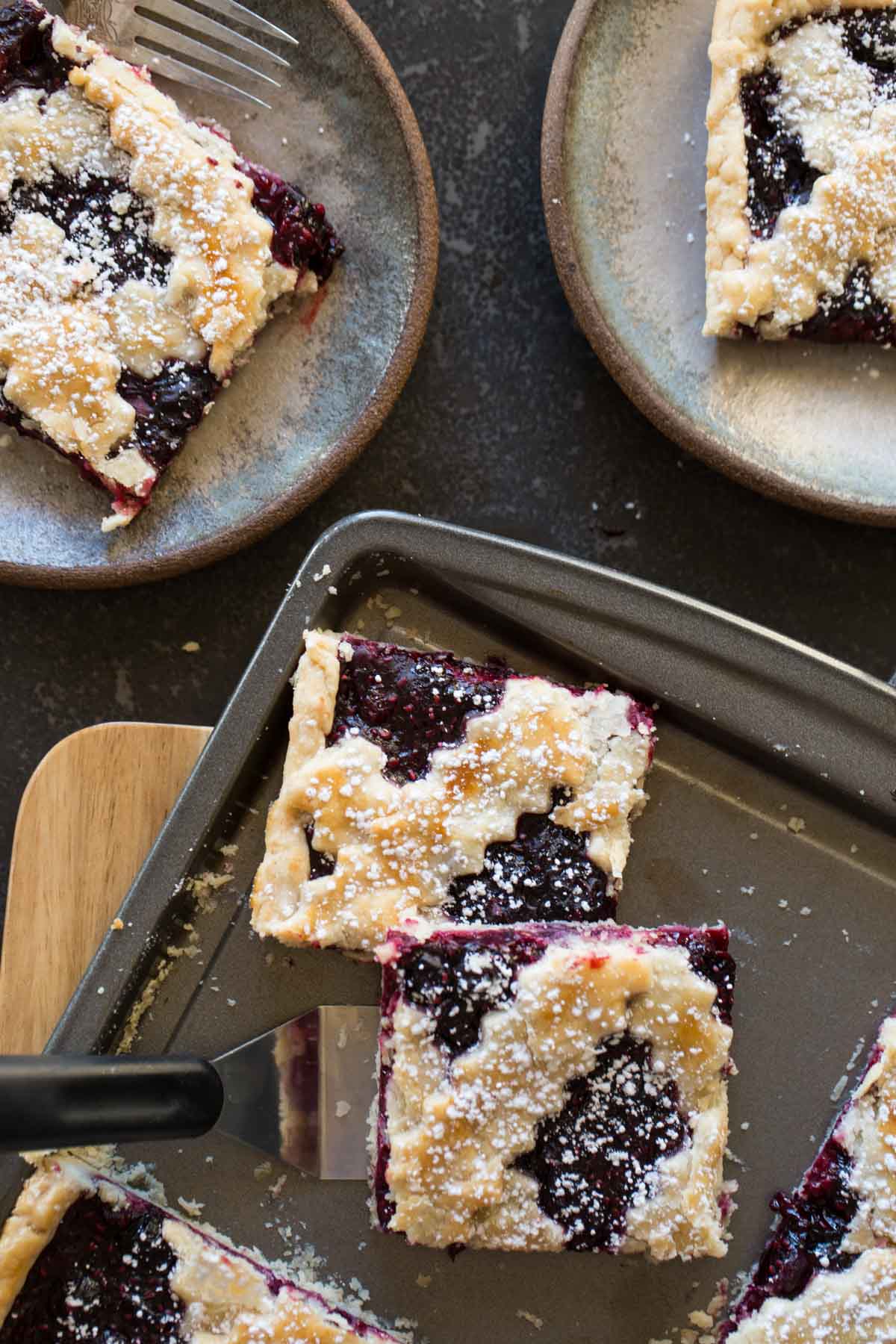 So, what's to love about a slab pie? First of all, that whole crust sliding down the edge of the pan thing doesn't happen. It has nowhere to go. The crust to filling ratio is very high. I like that. Also, slab pies cut very neatly. They are tidy little things. There's none of that awful getting the first piece out of the pan drama like there is with a round pie.
I can't think of a round pie that couldn't be done in slab form. Pumpkin would be wonderful. You can fill them with fresh fruit or bake the filling in. You could do a full top crust or crumb topping. I really do think they might just take over the world (of pie, that is). Here is another slab pie to consider.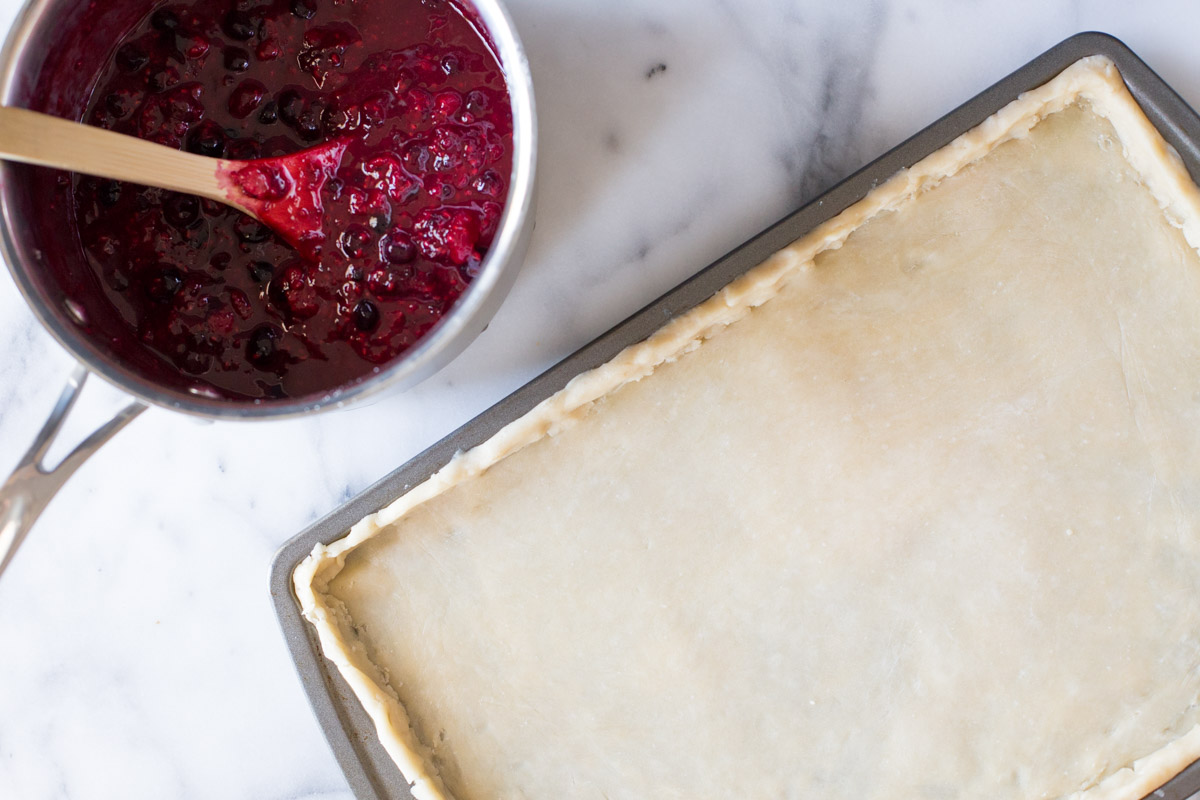 For this recipe, I used my 15 by 10 inch jelly roll pan. I settled on a part shortening, part butter-based crust – shortening for the texture and flakiness, and butter for the flavor. It's a very tender, thin crust, and it does take some patience. But just know anything that falls apart can and will be patted gently back together and everything will be okay. Remember that in the end, we will be applying a heavy dusting of powdered sugar, which will cover a multitude of sins.
Take heart and be courageous pie lovers! You can do this.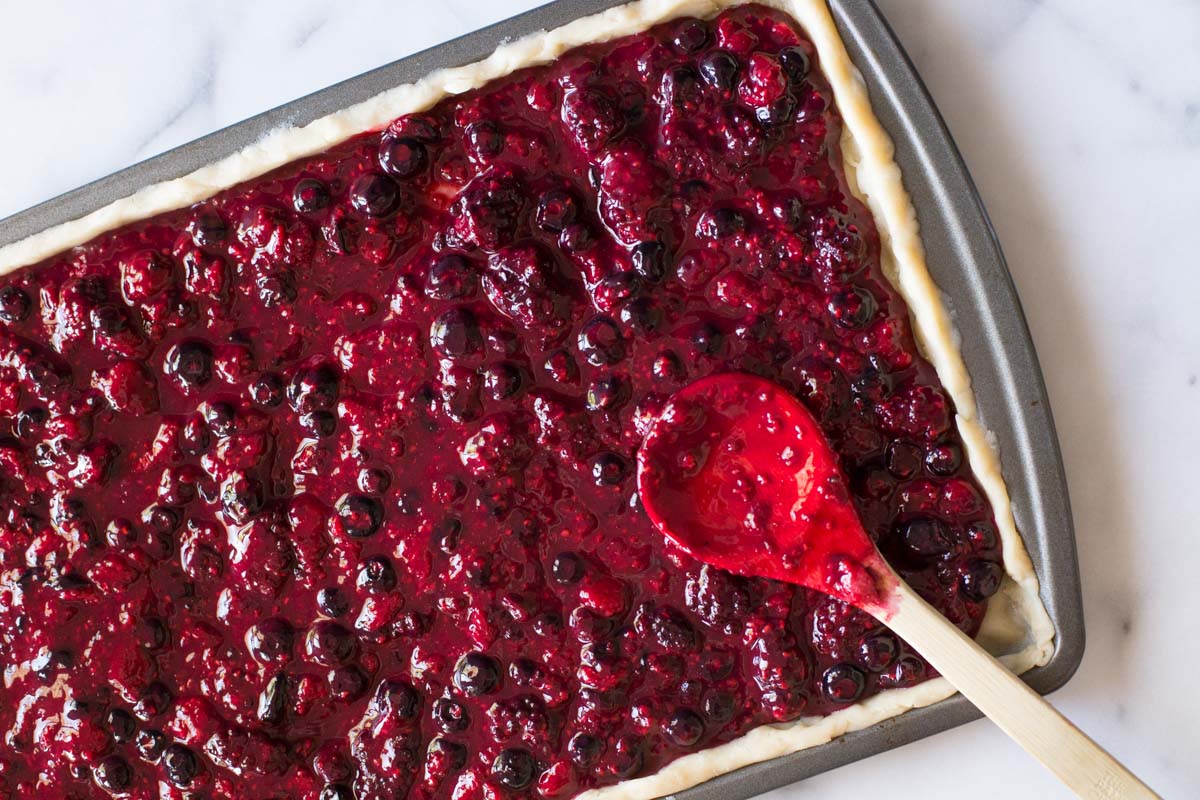 I used 7 cups of frozen berries (a blueberry, blackberry, raspberry mixture from Costco) and added a little sugar, cornstarch, and orange juice before bringing them to a simmer on the stovetop. When the filling has the chance to thicken up a bit on the stovetop before filling the pie and going into the oven, the result is a really well-set pie. Thus, the tidy squares that cut so neatly.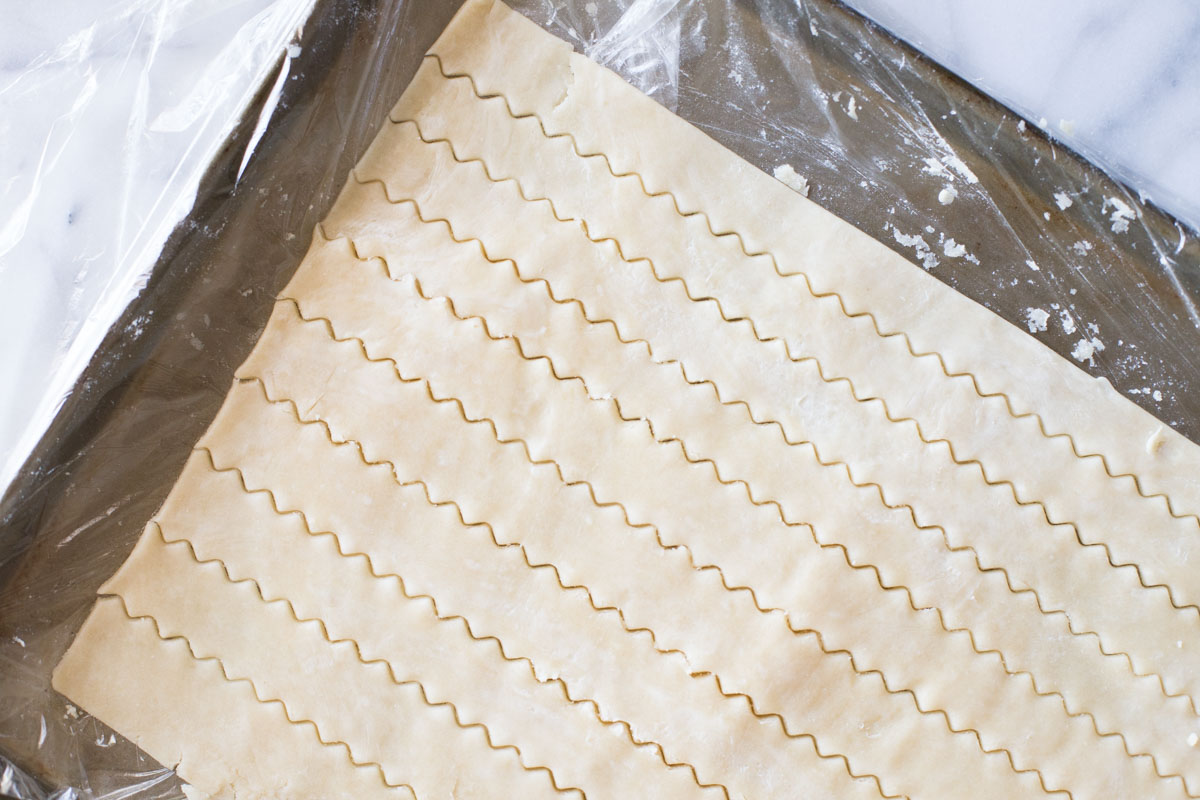 I will forever more be rolling out my pie crust between two layers of plastic wrap. This way I don't have to add so much flour to my work surface and rolling pin. It also helps with cracking on the edges and transferring the dough to the pan. If the dough seems to be warming up too much while you are working on it, just leave it in the plastic wrap and place it in the fridge to firm up.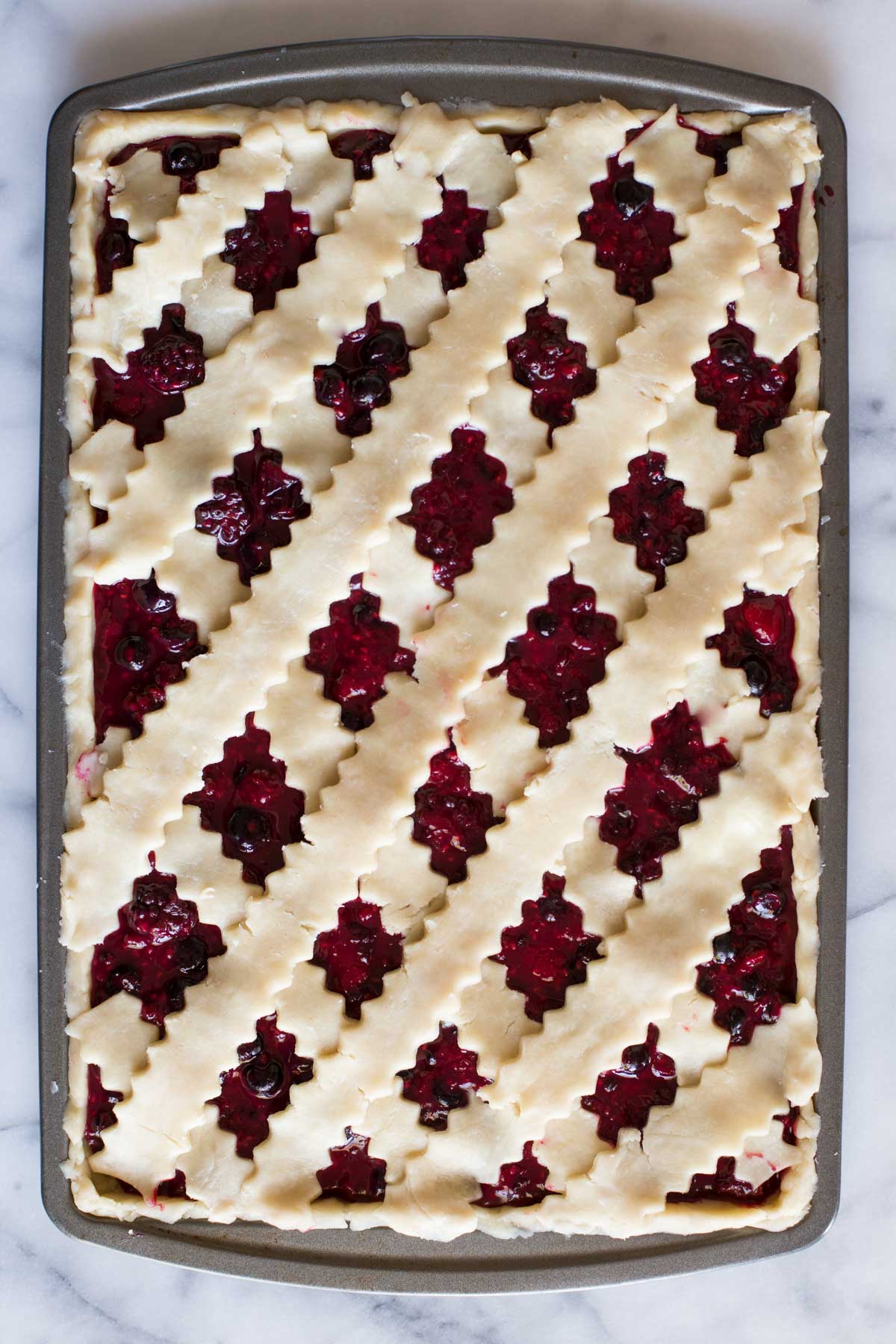 If you look closely, you'll see that this is not a true lattice. The strips are not woven together. The filling is too wet and sticky to accomplish this without making a mess, unless I would have done the lattice work on a piece of plastic wrap and then transferred the whole thing to the top of the pie. There's always next time.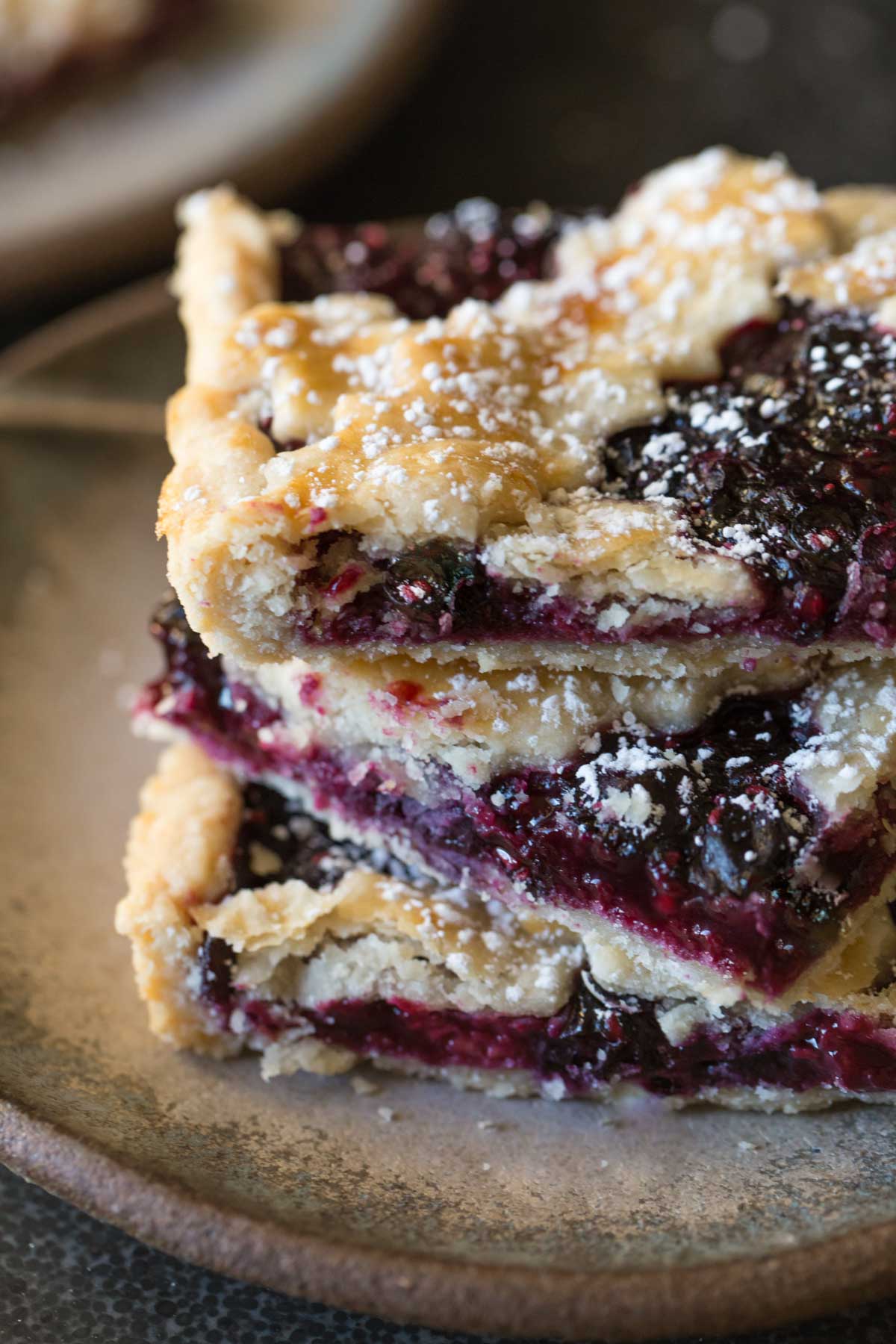 If you enjoy pie like I do, you will absolutely love this Triple Berry Slab Pie. It is not too sweet, and the filling is tart and flavorful. The crust is delicate and flakey, and you will be so excited to share a piece with someone you love. You'll wake up with a tiny bit of a bounce in your step knowing a piece is waiting for you to eat for breakfast the next morning.
Even if fall is not quite here yet and summer is like a houseguest sitting on your couch who has worn out his welcome, there's still pie. And right now, that's enough for me. Enjoy, friends.
Print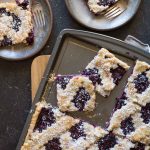 Triple Berry Slab Pie
Author:

Prep Time:

1 hour

Cook Time:

35 minutes

Total Time:

1 hour 35 minutes

Yield:

15

squares

1

x

Category:

Dessert

Method:

Bake

Cuisine:

American
---
Description
This Triple Berry Slab Pie has a tart, flavorful filling, and a flakey, delicate crust. You will be so excited to share a piece with someone you love!
---
For the Pie Crust
1 cup

(or

one

baking stick) shortening, cubed and chilled

1/2 cup

butter (I used salted), cubed and chilled

3 3/4 cup

all-purpose flour

1/2 teaspoon

salt

10 tablespoons

ice cold water

7 cups

frozen berries (I used blueberries, blackberries, and raspberries)

1/4 cup

sugar

2 tablespoons

cornstarch

1 tablespoon

orange or lemon juice

1

egg plus 1 tablespoon milk
dusting of confectioners sugar
---
Instructions
In a large bowl, using a pastry cutter, cut butter and shortening into the flour and salt until the largest clumps of flour coated butter and shortening are the pea sized.  Add ice cold water, a tablespoon or two at a time, and mix until a crumbly dough forms.  Knead dough together a few times to bring together and separate into two disks.  Wrap each disk of dough in plastic wrap and chill for at least 3 hours.
When you are ready to assemble the pie, add the frozen berries, sugar, cornstarch and orange or lemon juice to a medium saucepan.  Bring to a gentle simmer over medium heat, stirring occasionally.  Allow the berries to simmer and thicken for 3-4 minutes then remove from heat and allow to cool to room temperature while you form the pie.
Preheat oven to 375 degrees. Remove the dough from the refrigerator and place it between two large pieces of plastic wrap.  Roll from the center, turning the dough as you go, until you have a 13 by 18 inch rectangle.  The dough will be thin.  Remove the top piece of plastic wrap and flip the dough over onto a 10 by 15 inch jelly roll pan.  Remove the second sheet of plastic wrap, and gently press the dough (without stretching it) into the pan.   Roll the overhanging edges of the dough under and press them to the side of the pan.
Pour the filling evenly over the bottom crust.
Roll out the remaining dough into a 10 by 15 inch rectangle.  Using a knife, pizza cutter, or pastry crimper, cut ten strips of dough 1 inch wide by 15 inches long.  It may help to use a ruler for this.  Place one strip of dough in the center of the pan diagonally.  Trim the rest of the pieces to fit about 2 inches apart.  I used 5 strips going in one direction, and then crisscrossed with the five remaining strips.   If your strips of dough get too soft to work with, pop them into the freezer for a few minutes to firm them up.  Don't be afraid to patch the dough together if they crack or break.
In a small bowl, whisk egg and milk together.  Brush the wash over the top crust and edges.
Bake the pie for 35-40 minutes or until the top is golden brown.  Allow to cool and then dust with powdered sugar and cut into squares.
---
---
Nutrition
Serving Size:

1 Square Serving

Calories:

348

Sugar:

8.6g

Sodium:

126mg

Fat:

21g

Saturated Fat:

9.6g

Unsaturated Fat:

9.9g

Trans Fat:

0.3g

Carbohydrates:

37g

Fiber:

3.4g

Protein:

4.4g

Cholesterol:

36mg
Keywords: triple berry slab pie, berry pie, blueberries, blackberries, raspberries, pie