A while back I was invited to come out to Portland with five other food bloggers to an event hosted by Pacific Foods called Pasture to Plate. I was a little hesitant to go… well, I take that back. I was hesitant to leave my children. Not because I'm afraid to miss them (missing your kids is good for your heart), but because I know that taking care of three boys is a lot to handle. But then my husband told me I should go, and he would go up to the cabin while I was away and have an all out BOYS weekend. I decided to go for it and here are a few highlights from my trip!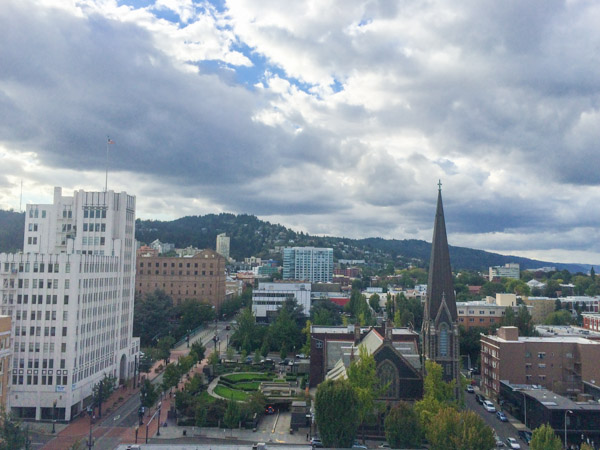 The first thing I did when I arrived in downtown Portland was take a walk and hit the food trucks. The Grilled Cheese Grill's B.E.C. (Bacon Egg Cheese) was a great choice.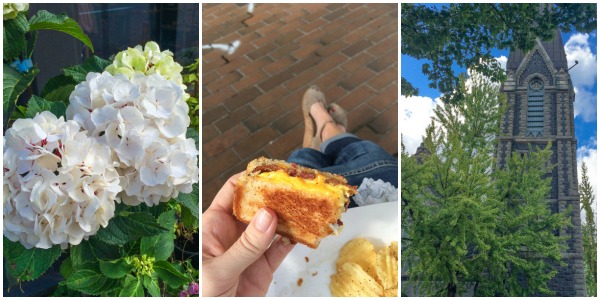 Then I checked into my hotel, the Sentinel, which was recently re-done and is totally gorgeous!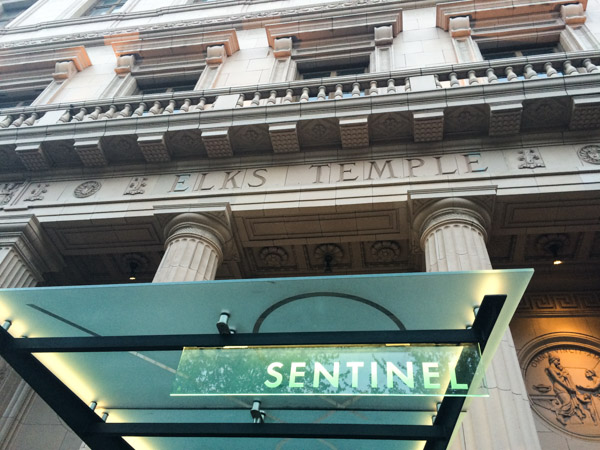 Loved the view of the church steeple out my window.

Our first full day started out with an oatmeal breakfast bar. We got to test out a brand new ready-to-eat steel cut oatmeal that will be hitting the shelves next year. Here's a little sneak peak. That special packaging allows food to stay fresh without chemicals or preservatives. Super convenient! My boys have been really into oatmeal lately, and not just for breakfast, but as an after school snack too. I know they'll love the apple cinnamon flavor!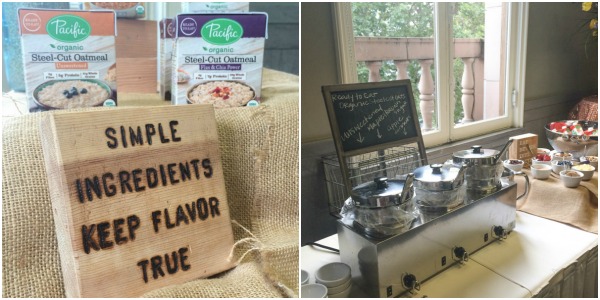 After breakfast, we rode a bus out of the city to tour the farms that supply Pacific Foods with milk and produce. It was such a beautiful day. The puffy white clouds against the blue skies were so dreamy. Not a raindrop in sight!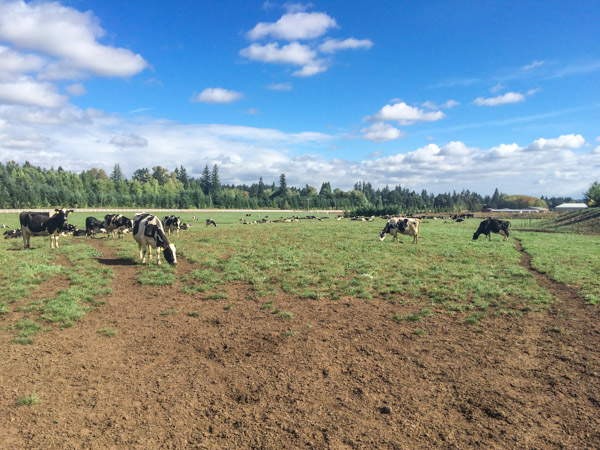 Sweet of these girls to pose for a little selfie with me, right?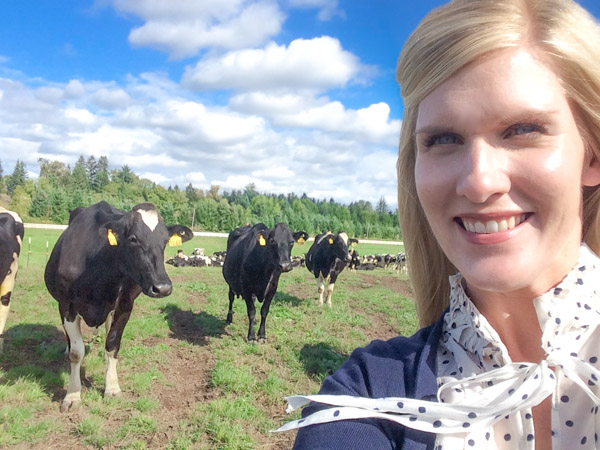 I think I like taking pictures of cows almost as much as I like taking pictures of food! While we were making new friends, we learned about how passionate and intentional Pacific Foods is about the ingredients that go into their products. The difference between a conventional dairy and an organic dairy is easy to see. These cows were so content to graze in these gorgeous wide open pastures. The farmers know that a happy cow is a productive cow, and so they go beyond the organic standards for animal welfare.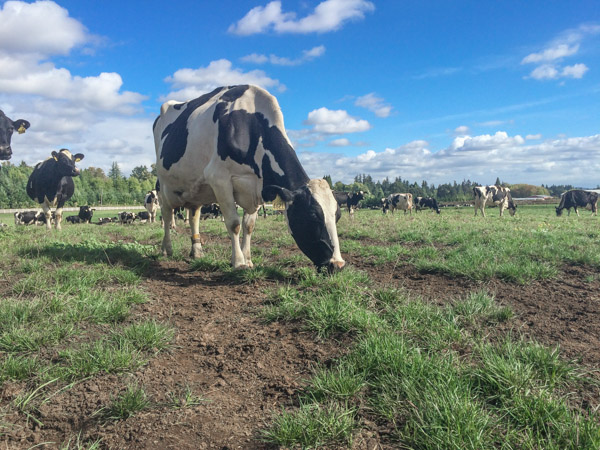 In addition to the dairy farm, we also got to see where Pacific Foods grows produce, not only for their products, but also for local food banks and their own community store. At the community store, employees can buy fresh local produce, eggs, meat, and Pacific Food products at cost. How cool is that? I love a company that cares for its own.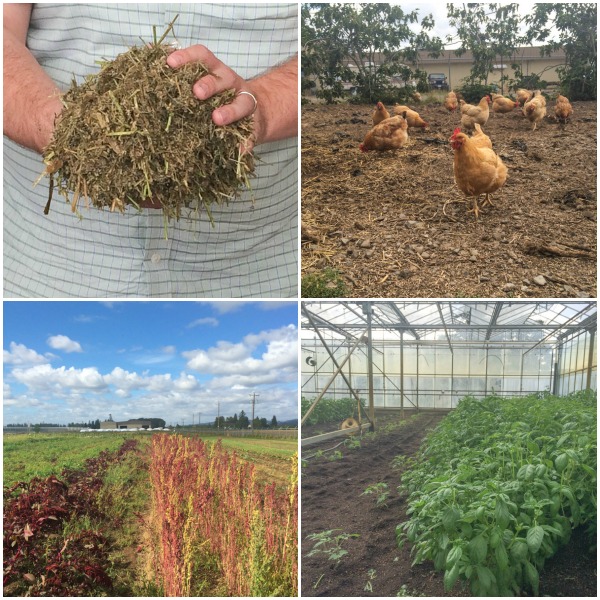 Bonus points if anyone can name the red and yellow plant in the bottom right hand corner pictured above?
Pacific Foods is a family owned company, founded by this man, Chuck Eggert. He's unmistakably dedicated to high quality ingredients, animal welfare and sustainable farm practices. He's the kind of man who sets an example for others to follow just by doing what he's passionate about.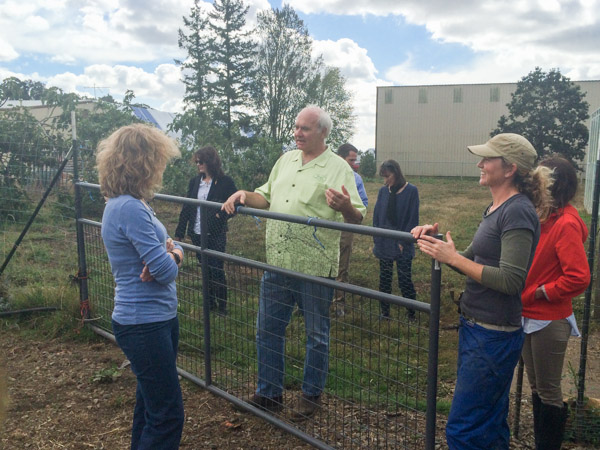 The Eggert family graciously hosted us for lunch on the patio at their winery.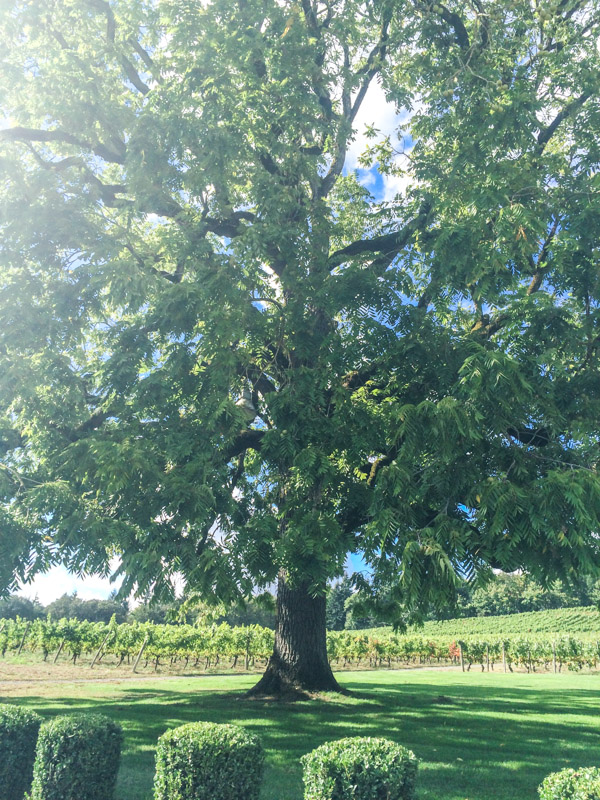 The view was breathtaking and the food was amazing!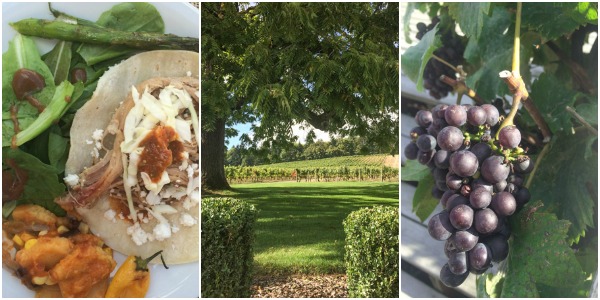 After lunch, we drove back into the city. We went up to the roof of our hotel, and met with beekeeper Damian Magista, Founder of Bee Local. He explained how hives placed in various urban settings (like on the roof of a hotel) produce honey with flavor profiles that reflect the forage available to the bees in that specific region. Hard to bring yourself to do it, but it's such a cool experience to break through those waxed honeycombs to dip your finger in and take a taste. Sorry little guys!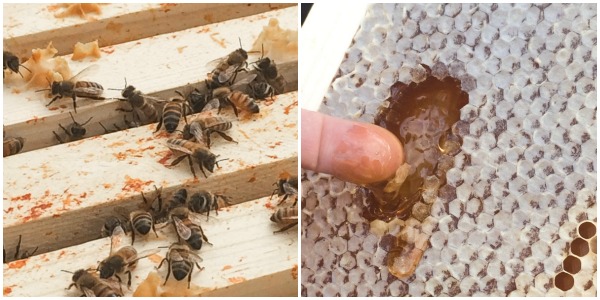 Another highlight of the weekend was visiting the Portland Farmer's Market. It's huge! So fun to sample so many locally grown fruits, vegetables, cheeses, and meats. We were given a tour led by local cookbook author Ivy Manning, and then we were challenged to collect ingredients from the farmers market to combine with Pacific Food products for a collaborative potluck style dinner we would be cooking together later that night.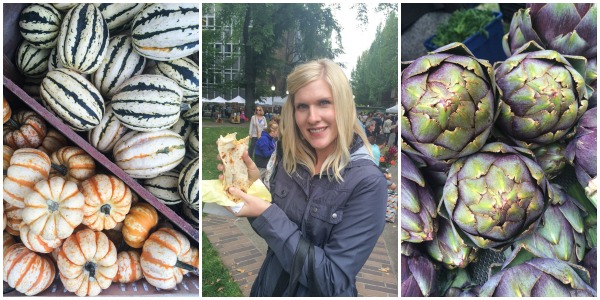 So we paired up and made an Artichoke Heart and Leek Crostini for a starter, followed by a Creamy Pumpkin Soup Topped With Toasted Hazelnuts. And here is our main dish, Spice Rubbed Buffalo Hanger Steak Tacos with every fixing you could ever want. Amazing! For dessert we had homemade pumpkin ice cream sweetened with Medjool dates and caramel sauce. Good thing we walked around a lot or you would have to roll me off the plane.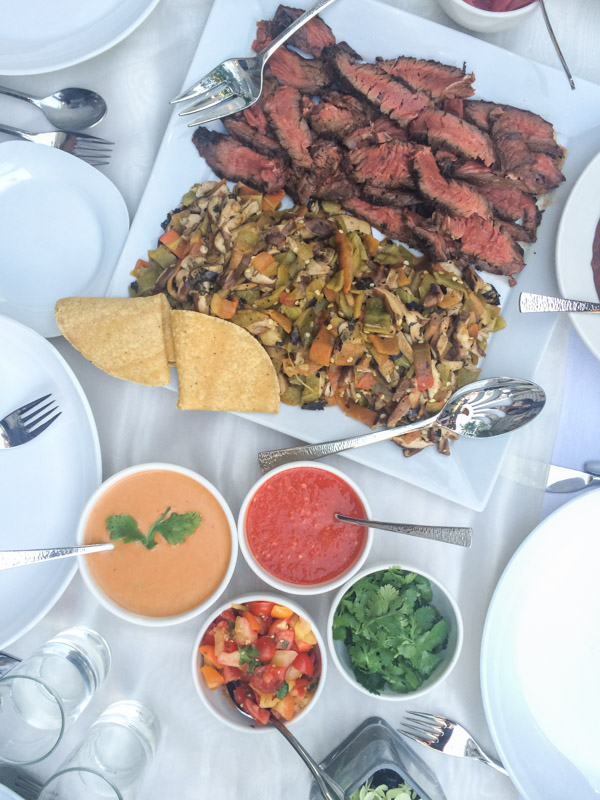 It was so fun to be able to experience this adventure with this amazing group of bloggers. Here's our group shot plus a few cows and a husband. From left to right we have, Megan from Healthy Grocery Girl, Sara from Go Gingham, yours truly, Alyssa from Everyday Maven, Lauren from Lauren's Latest, and Carrian, and her husband Cade, from Oh Sweet Basil.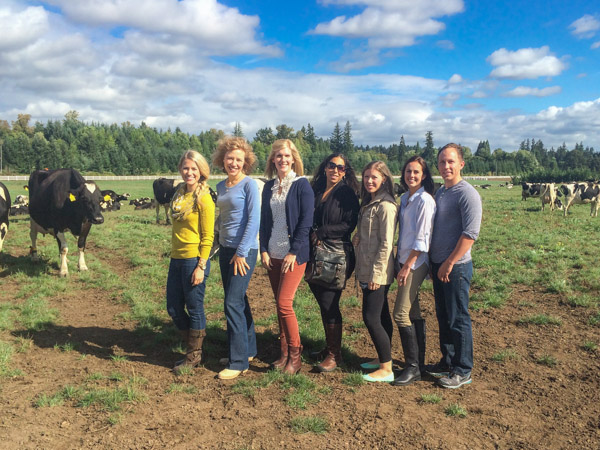 In the end I was so happy for the chance to miss my boys and then be reunited, and so ready to come home and share my experience with all of you. And thanks to the endearing city of Portland, and the amazing Pacific Foods crew for a wonderful weekend!
Pacific Foods hosted this trip, but all opinions are my own.