When I was about eight years old, my friend's mom made homemade caramels. She gave me a little tin full of soft caramel squares wrapped in plastic wrap for Christmas. I would savor each one, letting it melt in my mouth and seeing how long I could make it last. They were like little nuggets of candy heaven to me, and I looked forward her gift every year.
Ever since then, I've compared every other caramel I've tried to the ones my friend's mom made for me. My mom had asked for the recipe from my friend's mom years ago, but it looked a little too complicated, so I had never tried making them myself. This year, I decided to give it a try, and I'm so glad I did! It did take me a couple of tries to get it right, but in the end I had achieved what I was hoping for. This recipe makes the creamiest, smoothest caramels, and I'm a bit of a caramel fanatic if you can't tell! I'm wondering if the taste stands out from other caramel recipes to me because these are made with all cream instead of butter?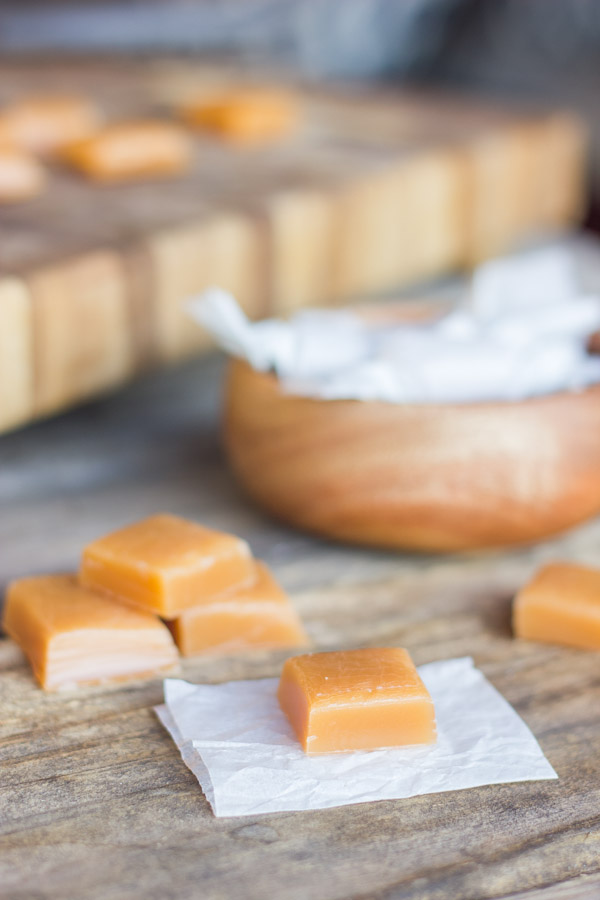 The first batch I made turned out too hard. I almost didn't try again, but my sweet husband said I should, and even ran out to get more heavy cream and Karo syrup for me. The second time I made sure to bring the liquid caramel to just a tiny bit below soft ball stage on my candy thermometer, and I actually used two thermometers at the same time to make sure mine was accurate. I also tried dropping a bit of the liquid caramel into very cold water when I thought it was done. If it easily gathers under the water into a ball with your fingers, and then flattens when removed from the water, it has reached soft ball stage.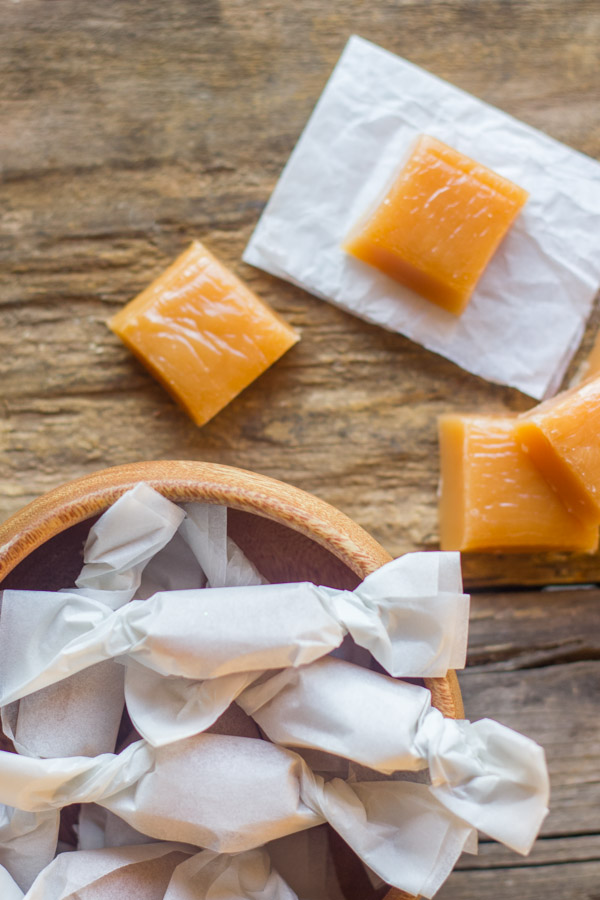 These caramels do take some time. You have to stand at the stove and stir for a good 30-40 minutes while waiting for them to come up to temperature. And wrapping them takes a bit of time too. Maybe enlist the help of a buddy and turn on your favorite Christmas movie while you work. I cut 3 inch inch squares of parchment paper, rolled them up, and twisted the ends tightly.
Having said all that, it was definitely worth the effort to me, and it makes A LOT of caramels. I filled Christmas tins with my beloved homemade soft caramels and gave them to neighbors, teachers, and family members. I also ate an incredible amount myself. I'm seriously amazed that my pants still zip.