I've had a craving for biscuits! Lately, I've been experimenting with substituting Greek yogurt for sour cream in my favorite recipes and have loved the results, like in my Greek Yogurt Banana Bread. I decided to try Greek yogurt instead of sour cream in good old fashioned biscuits. I had to make these a couple of times to get the recipe just right, but I ended up with the light fluffy biscuits I was hoping for. Adding Greek yogurt can really tenderize the dough and also cuts out some of the fat and adds protein. If you can't taste the difference, it's always nice to save those calories for something that counts!
So simple – butter and honey drizzled over a soft, fluffy biscuit, hot out of the oven – makes my day! I really think you need to make yourself these biscuits soon because they will make your day too.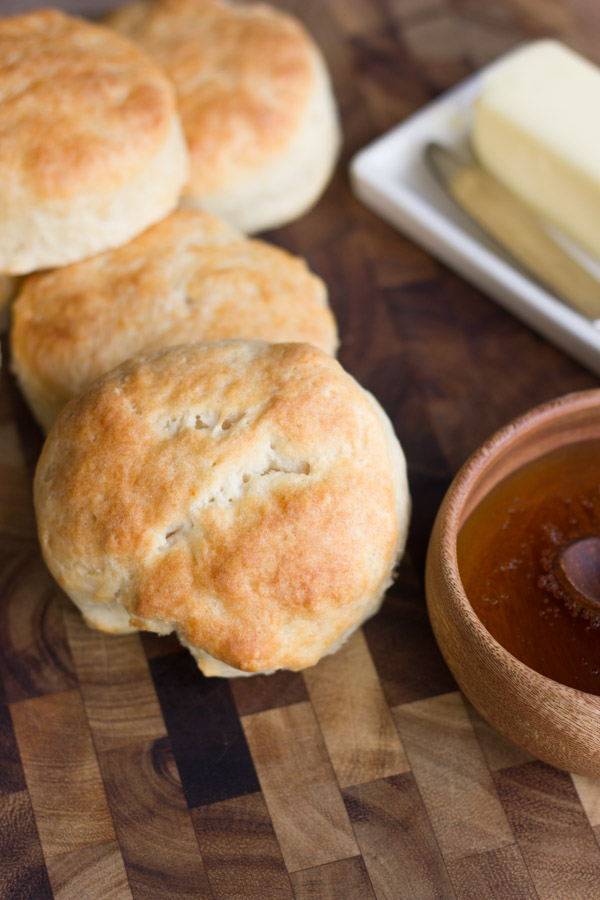 Up next, I'll share a family recipe, Chicken a la King, to serve over these Greek Yogurt Biscuits to make a hearty, comforting meal out of them. By the way, can you hear that sound?
(insert silence here)
It's called peace and quiet! Yes, my boys went back to school this week. Missing their sweet faces, but not the constant noise they make. Happy Wednesday to you too!