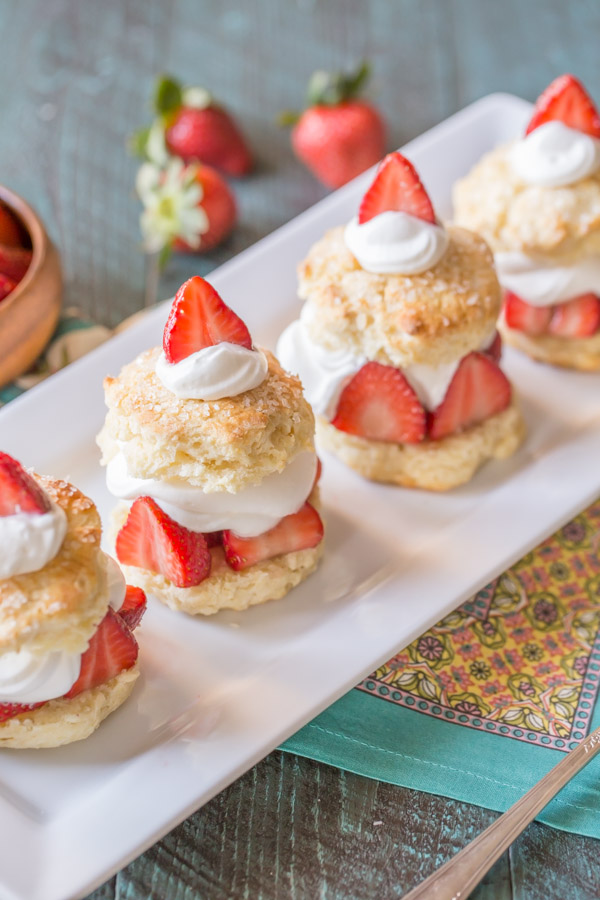 It's almost Spring, and I'm so happy to see strawberries again! Actually, they are in the grocery store year round, but now they are starting to actually TASTE like strawberries. Can I get an AMEN? And this means it's time for some Homemade Strawberry Shortcake. How can I resist? Those little guys just hop in my cart every time I pass by.
I had to make a couple of batches of these biscuits to get them just right, and I think I've discovered a few things that really help them bake up nice and fluffy. First, I grated my butter. Just like when I make pie crust, I think grating the butter (then freezing it) before cutting it into the dry ingredients really helps create those little pockets of steam when the high heat of the oven hits them, pushing them up and up and up.
Of course, you also want to make sure your baking powder is not too old. If you don't bake often, you might be surprised to see that you've got some pretty weak baking powder and this will definitely affect the rise of your biscuits.
And one more tip – When you are patting out the dough to cut out biscuits, pat it out to a 1 inch thickness, then fold it like a letter into the thirds, and then pat it out to 1 inch thickness again before cutting. I learned this little trick from The Baker Upstairs. Genius! This creates distinct layers in the biscuit. Nice fluffy biscuits with layers equals a happy baker. Enjoy!
Did you make this recipe?
Please let me know how it turned out for you! Leave a comment below and share a picture on Instagram with the hashtag #lovelylittlekitchen
Can't get enough?
Subscribe and I'll send all my recipes right to your inbox!  You can also keep up to date by following me on Pinterest, Instagram,  Facebook, YouTube, and Twitter
.
Homemade Strawberry Shortcake
Ingredients:
For the Strawberries
2-3 cups sliced strawberries
2 tablespoons sugar
For the Biscuits
2 1/2 cups all purpose flour
1/4 cup sugar
1 tablespoon baking powder
1/2 teaspoon salt
1/2 cup unsalted butter (very cold, grated or cut into cubes)
3/4 cup buttermilk*
1 egg
coarse sparkling sugar
For the Cream
1 cup heavy cream
1/4 cup sugar
1 teaspoon vanilla extract
Directions:
For the Biscuits
Preheat the oven to 425 degrees.
In a medium bowl, whisk together flour, sugar, baking powder and salt.
Grate butter into the bowl (or cut into small cubes) and freeze for 5 minutes.
In a small bowl, mix buttermilk and egg together.
Remove the bowl from the freezer, and cut the butter into the flour mixture until you have coarse crumbs. Add the buttermilk and egg, and stir together into a dough. Do not over mix, and you may decide to ditch the spoon and just use your hands.
Pour the dough out onto a well floured surface, and pat it out to about 1 inch thick. Fold it into thirds (like a letter) and pat it out to 1 inch thick again. This will help your biscuits rise up to be nice and flakey.
Cut the biscuits out with a 2 inch round cutter place them on a baking sheet. Sprinkle the top generously with sparkling sugar.
Bake for 12-14 minutes, or until the tops are golden brown.
Allow to cool.
For the Strawberries
Add sugar to the strawberries and let them sit while you make your biscuits. They will become soft and juicy.
For the Cream
In the bowl of an electric mixer (I use a chilled metal bowl) combine heavy cream, sugar and vanilla extract and whip on low speed for 1-2 minutes. Then increase the speed and whip until soft peaks form. Do not over mix you will have butter!
Notes:
*If you don't have buttermilk, you can add 1 tablespoon white vinegar to milk and let it sit for 5 minutes.
Recipe adapted from
The Baker Upstairs.